What Can You Do in Five Weeks?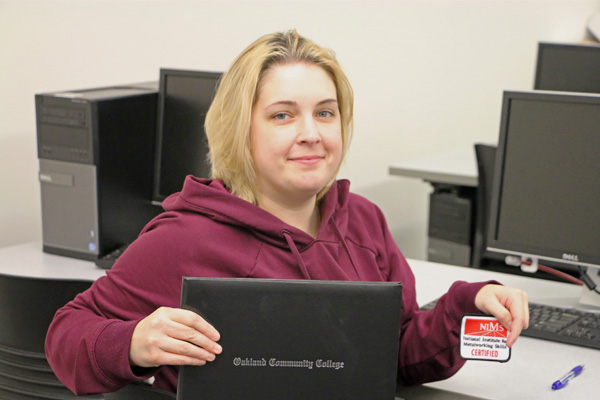 35 Days to a Career Makeover and New Opportunity
Christina Burke had worked with animals and was a former caregiver but was feeling stuck. She didn't see room for advancement and wanted something more. So, she decided to participate in Oakland Community College's Computer Numerical Control (CNC) machine operator 5-week training program.

There she met Mark Saglimbene, who has been teaching CNC classes at OCC for several years and continues to work in the field.

"Helping students like Christina embark on a new career path is exciting and very rewarding," he said. "Our course material covers all aspects of CNC milling and tuning. Our students receive hands on lab time on state-of-the-art HURCO machines. Plus, they have the opportunity to take three National Institute of Metalworking Skills exams to earn certificates. Once they complete the program, they are ready to hit the ground running (in a CNC operator job)."

In addition to the classroom training and lab time, students have an opportunity to interact and engage with local employers.

During Burke's training, she and her classmates participated in a company presentation from American Axle and toured two companies: Becker Orthopedic in Troy and UHI Group in Sterling Heights. All three companies were actively looking to hire CNC machine operators.

OCC Program Coordinator, Jessica Knapik, recognized Burke's motivation.
"During the last company tour, Christina was engaged and asked questions. It was clear, she was interested in pursuing a job with these companies. After the tour, Christina asked if she could provide them with a copy of her resume. As we were leaving, she went to her car to hand deliver her resume. That is how quickly a person's life can change with this training!"
Burke successfully completed the program in five weeks and gained employment just a few weeks later. She was hired at Forge Die and Tool as a CNC operator.

"I expected a certificate, but I didn't expect so much help with the job search," said Burke. She shared that she really appreciated OCC and participating companies' guidance along the way.

Start your someday now!

Jobs in the CNC machine operator field are in high demand. Starting pay ranges from $16 to $20 per hour. Many employers offer premium pay for second shifts.

OCC's next five-week, CNC machine operator training program starts April 24, 2023. Register now for an upcoming information session. For more information, contact program coordinator, Jessica Knapik at jaknapik@oaklandcc.edu or 248.232.4527.