Veterans Benefits
OCC participates in five veterans educational benefits plans.
Funds are attached to the veteran – not the institution. The Veterans Administration (VA) approves academic programs. Most OCC programs are approved for enrollment.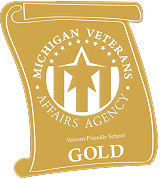 OCC is a Michigan Veterans Affairs Agency "Gold" college. The Michigan Veteran-Friendly School program recognizes academic institutions of higher learning committed to supporting the needs of student veterans and dependents. The program awards Gold, Silver, and Bronze level status to institution that offer veteran-centric services and programs. Any institution of higher learning and/or training facility in Michigan eligible to receive veteran education benefits can apply for the program regardless of size, location and program delivery.
Finish Your Degree or Certificate Faster
You may qualify for college credit based on your prior military experience or coursework. The American Council on Education (ACE)'s Military Guide will help you to understand more about how your experience may apply to college credit. To get started, you'll need to provide your DD-214 and request a Joint Service Transcript (JST). Contact our Veterans Affairs Office at 248.232.4342 for assistance.