In Memory of George Mosher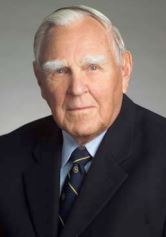 March 19, 1921 - January 7, 2020
George R. Mosher, Jr. occupies a unique and cherished place in Oakland Community College's history. Many call him OCC's "Founding Father."
Mr. Mosher was instrumental in campaigning for the creation of OCC. He was elected to serve on the first OCC Board of Trustees in 1964, and continued as Board Chair until 1970. After twice winning reelection, he concluded his Board of Trustee service in 1976.
His years of service to OCC changed the face of education in Oakland County. In gratitude for his passion and dedication, we celebrate his life and legacy.
Your gift in his memory will be designated to the Doris & George Mosher Endowed Scholarship Fund.