OCC Alum Accomplishes Dream as Trauma Surgery Nurse Practitioner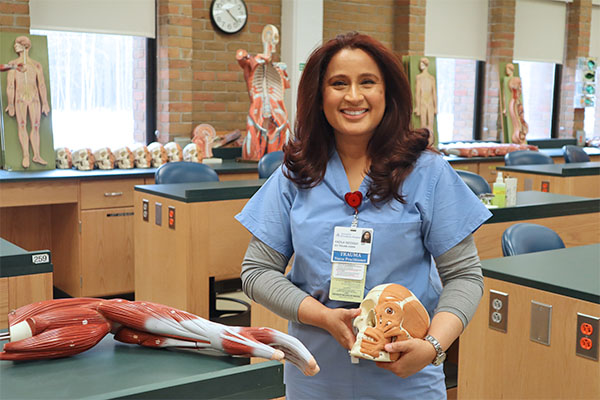 Born into a traditional household in Pakistan, Fazila Siddiqui loved and appreciated her family. Yet, from an early age, she dreamed of something many females in her native country did not have access to – higher education. Her goal was to obtain an education and get into the medical field.

"My mother had a second-grade education, which was typical in very traditional conservative families in Pakistan," she said. "No one in my immediate family had a college education. After my family moved to California in 1988, I took my first class at a community college in San Diego in 1994 and knew I wanted to have a career."

Siddiqui got married and had two children. Taking care of her family would always be a priority, still her dream never wavered. When her family moved to Michigan in 2006, she looked at pursuing a nursing degree at Oakland Community College. Her road to success took off in 2008 when she enrolled in the college's nursing program. Siddiqui heard OCC had a great nursing program and that it was hard to get into.

"The GPA required to get in was high, but my determination was also high. I was thrilled when I was accepted," she said. "I remember listening to my tape-recorded lectures at home while I was taking care of my family and studying until two or three in the morning. It was all worth it!"

Siddiqui graduated with an associate degree in Nursing from OCC in 2010 and passed the rigorous National Council Licensure Examination (NCLEX-RN®) on her first try. She credits OCC and her instructors for giving her the skills she needed to pass the exam and prepare for her nursing future.
"I am who I am because of OCC. I would not have been able to accomplish becoming a nurse if it was not for the flexibility and motivation from OCC. The college's faculty and staff offered me tremendous support every step of the way."
Siddiqui commented that she can't think of any OCC instructor who she did not appreciate. One, in particular, was very tough, but she will always value the rigorous classes and training that paved the way to succeed as a nurse.

Her OCC education opened the door for getting a job as an ER/Trauma nurse at Children's Hospital of Michigan. Her interest in furthering her career did not stop there. While at Children's Hospital, she pursued her undergraduate degree from University of Detroit Mercy and then her graduate degree to become a nurse practitioner from Oakland University. This led to a job as a trauma surgery nurse at Ascension St. John Hospital and Medical Center where she was the only permanent female member of the trauma team. She is now at Ascension Providence Hospital Novi.

Making her dream become reality had special meaning during her graduation ceremony at Oakland University.

"When I saw my mom, who was so limited in her education, stand up and applaud right next to my daughter, who is now a pre-med student at Wayne State University, it was a truly inspirational moment for my family," she said. "I am proud to be an example that there is no excuse for not achieving your goals and dreams."

Siddiqui's OCC journey has come full circle as both her son and daughter have also completed classes at OCC to further their education. While her daughter currently takes classes at Wayne State, she continues to take classes at OCC.
"My daughter knows how much I value the education I received at OCC. She knows the value of having great teachers, flexibility and smaller classes while pursuing her dream of becoming a doctor. I could not agree more."
For more information visit Nursing. To learn more about OCC, a campus tour, or transfer sessions, visit  Admissions at OCC.