OCC Culinary Institute Reopens Restaurants, Plans Three Culinary Events at Orchard Ridge Campus This Fall
After more than a year of closures and cancellations due to the COVID-19 pandemic, OCC's restaurants and culinary events on the college's Orchard Ridge campus are back in business.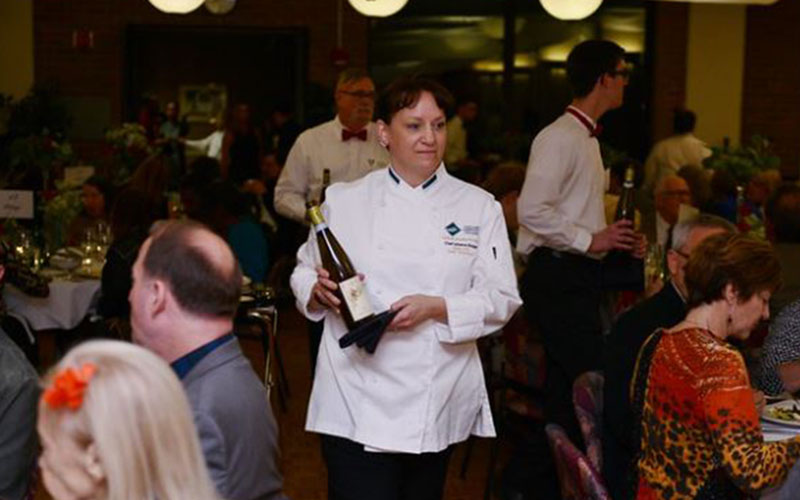 "Our restaurants and culinary events are very popular with our community, but they also provide a perfect training ground for our culinary students in all aspects food service and event planning," said Julie Selonke, program coordinator for the OCC Culinary Studies Institute. "Re-opening our restaurants and bringing back culinary events is really an important win for all involved."
Ridgewood and Reflections Restaurants Re-Open this Fall
The popular Ridgewood restaurant is now serving fresh salads, an array of sandwiches and entrees, and delectable desserts each Monday, now through Dec. 6. The Culinary program's more intimate Reflections restaurant will re-open on Thursdays beginning Nov. 6 and run through Dec. 9 and will offer a four-course meal, with a choice of one of three entrees, as well as wine and beer options. Reservations are required by calling 248.522.3700 or email at ksleach@oaklandcc.edu.
In addition to these dine-in restaurants, OCC's Culinary Studies Institute is offering pre-packaged meals in its 'Grab N Go' carry-out on Mondays through Dec. 6. All food venues are open on their respective days from 11:15 a.m. to 1 p.m., located in Building J, on the third and fourth floors, on the OCC's Orchard Ridge campus.
For more information about the OCC restaurants, visit https://www.oaklandcc.edu/culinary/restaurants.aspx.
Three Culinary Events Scheduled October, November and December
In addition to re-opening restaurants, OCC is offering three culinary events on Thursdays this fall:
· It's The Great Pumpkin Buffet, Lunch Buffet, Oct. 28, 11:15 a.m. to 1 p.m.
· High Tea, Nov. 18, 11:15 a.m. to 1 p.m.
· The Back Roads of America, East of the Mississippi, Dinner Event, Nov. 18, 6 p.m. to 10 p.
For more information and to register for these culinary events, visit https://www.oaklandcc.edu/culinary/special-events.aspx.
###
About OCC
Offering nearly 100 degrees and certificates, OCC is Michigan's largest multi-campus community college and No. 1 transfer institution in the state. The College provides academic, career training and enriching experiences, designed to empower students to reach their potential and enhance our community. More than 1 million students have enrolled in the College since it opened in 1965. A seven-person Board of Trustees governs OCC. Board members are elected on a non-partisan, at-large basis, serve as volunteers and are not paid. Mission statement: OCC is committed to empowering our students to succeed and advancing our community. Learn more at oaklandcc.edu.
Media Contact: Marketing & Communications | 248.341.2020 | contactus@oaklandcc.edu