Wouldn't it be great to graduate from high school and have already earned college credits before graduating? Or, better yet, have earned a college degree? And at no cost to students and their families?
These are several options to do just that at Oakland Community College through dual enrollment and the College's early and accelerated college programs.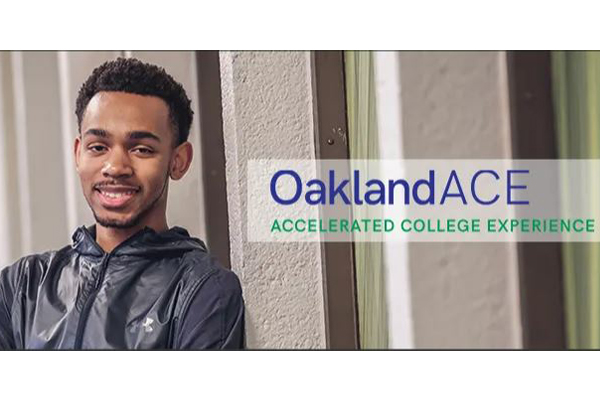 Lola Banks, OCC associate dean of College Readiness and Secondary Partnerships said that early college programs immerse students in the college experience while providing guidance and support through various wraparound services.
"This guidance and support make these programs an incredible opportunity for Oakland County students," she said.
Early College
Early college (also known as middle college) blends high school and college into a multi-year program combining high school graduation with an OCC associate degree in grade 13. In this program, students work simultaneously toward their high school diploma and their OCC associate degree. There is no cost to the students for OCC tuition, fees or books. Students in early college programs often go on to complete their bachelors' degree at a four-year college or university.
Currently, OCC hosts three early college programs:
OCC Admissions Director Jeremy Guc explains these programs also offer a great opportunity for students looking for more options and more challenge than a traditional high school experience can provide. "It's a great way to get a head start on your college degree, tuition free," he added.
Student experiences with Early College
Kimberly Campbell, 19, of Clarkston, is a first-generation college student who will receive her diploma from Clarkston High School and an associate degree from OCC this year. She participated in the Oakland ACE program and felt it was a good opportunity to get a head start on college with the added benefit of having the Clarkston School District covering the cost.
"I already knew I wanted to be a dentist and that requires a lot of schooling, so any head start I could get, I wanted to take advantage of it," Campbell said. "When I signed up for ACE, I didn't know what I was getting myself into, but I'm glad I did it."
Ainsley Rahm, 18, of Highland Township, will receive her diploma from Milford High School and two associate degrees from OCC in May. She said she was looking for something challenging and after hearing about ACE she thought it would be a great fit.
"I started ACE during the pandemic in 2020, so I was completely online when I started OCC. It wasn't as bad as it sounds because I already had some practice taking classes online with high school prior to OCC. I eased into it and knew what to expect." Rahm explained.
Rahm is currently taking both live and online classes at OCC and plans to attend Western Michigan University in the fall and double major in integrated supply management and fashion merchandising.
"I had no idea what ACE was going to be like, and it looks like going to OCC turned out to be one of the best decisions I've made," she added.
To learn more about early college at OCC visit oaklandcc.edu/admissions/early-college
Dual Enrollment
Want to take a college course while in high school, but not fully commit to an Early College program? Beginning in ninth grade, students can enroll in college courses at OCC and begin earning credits that can be applied to an OCC degree or certificate or transferred to a four-year university. If a student is sponsored by their district, tuition costs are covered, making dual enrollment both affordable and flexible. Students can also self-pay at current tuition rates.
"Dual enrollment is a great opportunity for high school students to take college-level classes that interest them, at their own pace," said Guc. "It's an excellent springboard for high school students looking to ease into college courses early, explore individual interests outside of high school and earn credit in academic and career subjects."
Guc explained the OCC team works with students to verify if they meet pre-requisite requirements and offer easy steps to enroll. OCC offers free, virtual information sessions, to learn how dual enrollment works.
To learn more about dual enrollment at OCC visit oaklandcc.edu/admissions/highschool-dual
About OCC
Oakland Community College offers nearly 100 degrees and certificates programs with the resources students need to be successful and advance our community. As a top transfer institution, OCC offers one of the state's most affordable tuition rates and flexibility in scheduling with face-to-face and online options. The College is nationally recognized for its high-demand career training with expert faculty in their fields. More than 1 million students have enrolled in the College since it opened in 1965. Learn more at oaklandcc.edu.
###
Media Contact: Marketing & Communications | 248.341.2020 | contactus@oaklandcc.edu