Students earning a certificate, two-year degree or apprenticeships find good paying careers in manufacturing and health sciences
Community colleges have long-been associated as a good place for students to get started. Many take general education credits to continue their studies at a four-year institution, while others earn a technical degree or certificate for vital careers in manufacturing, healthcare, business, public services and more.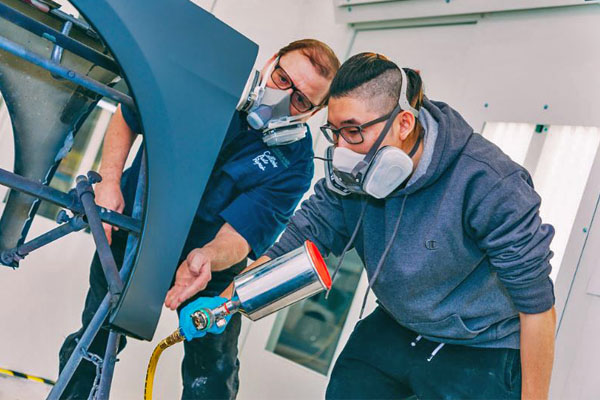 Today, these technical and skilled trade jobs are in high demand, and more students are seeing the benefit of preparing for a career where they can earn a good living without incurring debt that often accompanies the expense of advanced degrees from four-year colleges and universities.
"There are so many good-paying jobs available that require a skilled trades' education, and we are seeing our students find good careers after completing our programs in a variety of industries," said Beau Everitt, OCC academic dean of Engineering, Manufacturing and Industrial Technologies. "Our students have a real advantage in the workforce learning in our state-of-the-art facilities and getting the skills they need from highly experienced, dedicated instructors in their respective fields."
OCC offers a wide variety of programs that prepare students for in-demand jobs in fields including automobile servicing and collision, computer aided design, robotics, machine tooling, welding, heating and cooling, pre-engineering, construction management, heavy equipment repair and technological sciences.
According to OCC faculty member Claude Townsend, who oversees the College's Automobile Servicing program, the potential for his OCC automotive students to find a good job at a local dealership is almost 100 percent.
"I get calls weekly from local dealers looking for qualified candidates to hire, and many servicing departments provide tools and a toolbox for our students as an added incentive, "Townsend said.
Townsend added that after taking OCC's basic Automotive Fundamentals class they can already qualify for an entry-level position in a dealership's service department, and then continue to take classes to complete their certificate or associate degree.
"Our students know that what they learn at OCC applies directly to what they do at a dealership," he said. "The more students learn in our classes, they increase their chances to move up to the next level at a dealership and make more money. And many dealerships will even pay for their tuition."
Apprentices get paid while learning on the job and in the classroom
OCC also offers robust apprenticeship and pre-apprenticeship programs that provide students with on-the-job experience and classroom training to prepare them for a skilled-trades career.
"We currently have many apprentices in our program sponsored by partner companies in Oakland County. These students have a fantastic opportunity to earn their associate degree while working and getting paid," said OCC Apprenticeship Coordinator Cameron Albring. "It is a win-win for our students and employers for on-the-job learning and related classroom instruction that can result in a good-paying job. In fact, many of these apprentices will end up working for the apprenticeship company and earn a degree with no college debt."
Lugh Frank is one of OCC's students in the apprenticeship program at aviation and aerospace component manufacturerWilliam's International in Pontiac. He credits the program with giving him a career path that was a perfect fit for him.
"I didn't know what to do and I was struggling to find where my place was. I started with OCC's pre-apprenticeship program and got to meet people in the industry and see a real machine shop in action."
That led to Frank becoming part of OCC's apprenticeship program, where he is happy with his direct path to a job after graduation.
"I'm learning in the classroom and then taking that knowledge directly into the industry," he said. "At Williams, I'm doing something awesome every day. I'm getting paid for it and I will graduate with no debt!"
OCC is now accepting applications for the Winter 2023 semester; applications are due Dec. 15, 2022. Oakland County Michigan Works! has funding available to assist students enrolled in OCC's pre-apprenticeship program who are experiencing barriers getting to or remaining in training.
Health Sciences another "skilled" trade leading to in-demand jobs
While many think of skilled trades as manufacturing based, the Health Sciences field also has in-demand jobs available for students who earn a certificate or associate degree in programs like Dental Hygiene, Diagnostic Medical Sonography, Health Care Administration, Medical Assisting, Nursing, Radiologic Technology, Respiratory Therapy and Surgical Technology. There are also apprenticeship opportunities with area health facilities.
"Like the manufacturing skilled-trades disciplines, the Health Sciences programs at OCC also have state-of-the-art clinical facilities that provide students with the same experience they will need when transitioning to a health-care job," said OCC's Assistant Provost Jolene Chapman. "For example, our Dental Hygiene program features a working dental clinic on the Highland Lakes campus, where our dental hygienist students provide dental services for community members each week."
With so many positions available in the manufacturing and health sciences fields, earning a certificate or two-year degree that prepares students to qualify for these in-demand jobs is a pathway for future success with little or no college debt.
For more information on manufacturing skilled trades and apprenticeship programs at OCC, visit https://www.oaklandcc.edu/skilledtrades. To find out more about OCC's Health Sciences program information, visit https://www.oaklandcc.edu/health.
About OCC
Offering nearly 100 degrees and certificates, OCC is Michigan's largest multi-campus community college and one of the top transfer institutions in the state. The College provides academic, career training and enriching experiences, designed to empower students to reach their potential and enhance our community. More than 1 million students have enrolled in the College since it opened in 1965. A seven-person Board of Trustees governs OCC. Board members are elected on a non-partisan, at-large basis, serve as volunteers and are not paid. Mission statement: OCC is committed to empowering our students to succeed and advancing our community. Learn more at oaklandcc.edu. 
###
Media Contact: Marketing & Communications | 248.341.2020 | contactus@oaklandcc.edu