After nearly two years of the lights out at the Smith Theatre on OCC's Orchard Ridge campus, LIVE shows return in March with the popular drama "12 Angry Jurors," directed by OCC's new Theatre Instructor and former Broadway actress, Jennifer Little.
Should a young man face the death penalty or is there reasonable doubt?
Twelve average Americans must wrestle with this decision in this OCC production of the 1950s Emmy Award winning television movie.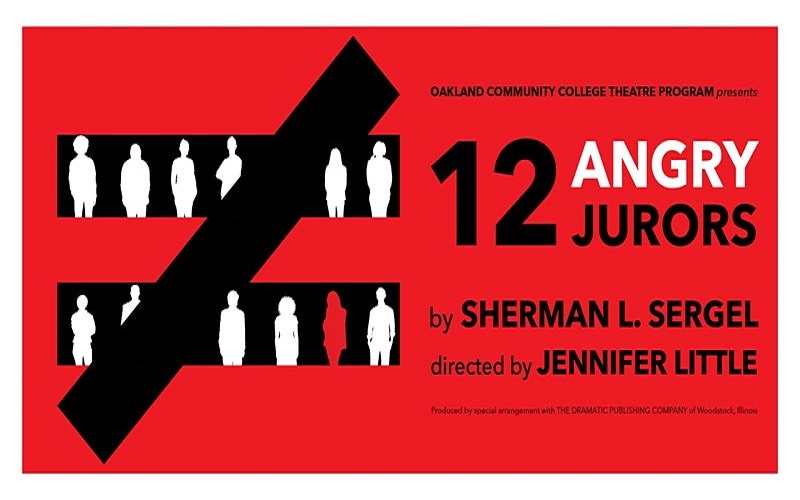 The show is a taut and compelling look at the justice system, as 12 jurors debate the guilt or innocence of a 19-year-old defendant facing a possible death penalty for killing his father. Hidden biases are revealed and emotional journeys are taken, as these 12 ordinary Americans struggle with a decision where a young man's life hangs in the balance.
Tickets are on sale now through Eventbrite for the shows on March 17, 18, 24 and 25, 2022, with a 7:30pm curtain. Visit https://www.eventbrite.com/e/12-angry-jurors-tickets-251438668827 to reserve tickets. Ticket cost is $10 for general admission; $5 for students and complimentary for OCC employees.
Interpretation for this production is provided by interpreting interns through a supervised clinical experience partnership between the Oakland Community College Theatre Program and the Sign Language Interpreter Program.
About OCC
Offering nearly 100 degrees and certificates, OCC is Michigan's largest multi-campus community college and No. 1 transfer institution in the state. The College provides academic, career training and enriching experiences, designed to empower students to reach their potential and enhance our community. More than 1 million students have enrolled in the College since it opened in 1965. A seven-person Board of Trustees governs OCC. Board members are elected on a non-partisan, at-large basis, serve as volunteers and are not paid. Mission statement: OCC is committed to empowering our students to succeed and advancing our community. Learn more at oaklandcc.edu.
###
Media Contact: OCC Marketing & Communications | 248.341.2020 | contactus@oaklandcc.edu