OAKLAND COUNTY, Michigan – Oakland Community College's (OCC's) Alpha Omicron Rho chapter of Phi Theta Kappa (PTK) Honors Society has had a very busy year of leadership, scholarship, service and fellowship activities aimed to educate and serve the community. From campus projects tackling issues concerning diversity and cultural appreciation within the college, to a global initiative to help immunize children in developing countries via the Red Cross's Vaccinate-A-Village program, OCC's honor students have tackled many projects that encompass different fields of study and action.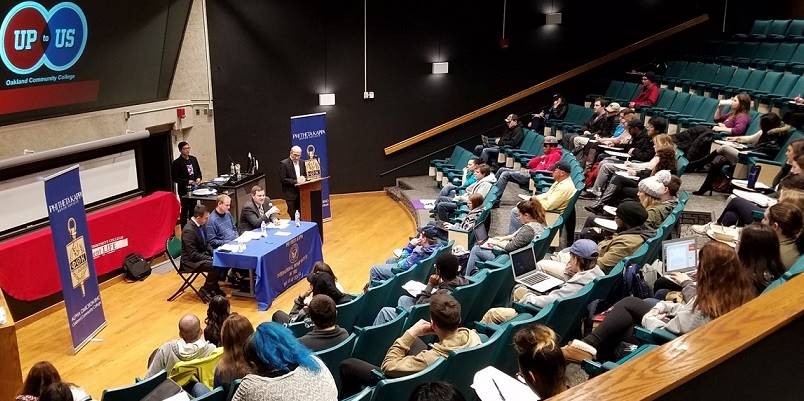 This past month brought new opportunities for scholastic achievement for these OCC student leaders, as they devoted the month of November to fun and dynamic educational activities at the Auburn Hills campus centered on raising awareness about the increasing national debt. Activities ranged from Game of Thrones inspired events to contests and a panel discussion with Oakland County Treasurer Andy Meisner and Political Advisor Doug Tietz.
"We are excited to be joining the Up to Us national competition this year," said Santiago Villarreal, President of OCC's 'Up to Us' student group. "We are partnering with Phi Theta Kappa and other student clubs to let the community know that the U.S. debt is out of control. Just last month, the nation's debt surpassed 20 trillion dollars! Today's youth need to know how it will affect our future and that of generations to come."
According to PTK Faculty Chair and Political Science Discipline Chair, Jeffrey Farrah, PTK leaders got involved in the "Up to Us" project because they have been researching myths for their Honors In Action (HIA) project.
"These students saw some interesting parallels between the research and some of the myths and misconceptions surrounding the national debt. It seemed like a natural fit for the leadership to get involved in the "Up to Us" effort and actually start a student group here at the AH campus," said Farrah.
OCC's 'Up to Us' student organization joins nearly 100 teams from colleges and universities across the country competing for the top prize: a trip to Washington D.C. where they will meet legislatures and see firsthand where fiscal policy takes place.
Joseph Javier, OCC PTK President, hopes they will beat the competition. "Our honor students staged some very creative activities which our college enjoyed. We kicked off the month with a Game of Thrones inspired day of events and contests to celebrate 'My Two Cents Day.' Our finale event with Treasurer Meisner and Political Advisor Doug Tietz on how the debt affects students included OCC professors Daniel Lawson and Jeff Farrah. We dedicated the entire month to fiscal policy and 'Up to Us!'"
About OCC - With multi campus system throughout Oakland County, OCC offers degrees and certificates in approximately 100 career fields as well as university transfer degrees in business, science and liberal arts. The College provides academic and developmental experiences allowing each student to reach their full potential and enhance the communities they serve. More than 45,000 students annually attend OCC; more than a million students have enrolled in the College since it opened in 1965. Learn more at oaklandcc.edu.
###
Photo Cutline: OCC's finale event was a panel discussion on how the debt affects students. The panel, moderated by Political Science Discipline Chair Jeffrey Farrah, included Oakland County Treasurer Andy Meisner, OCC Professor Daniel Lawson and Political Advisor Doug Tietz.
Media Contact: Marketing & Community Relations | (248) 341-2020 | contactus@oaklandcc.edu