ROYAL OAK, Mich., – Ford Arts, Beats & Eats presented by Soaring Eagle Casino & Resort returns to Royal Oak Aug. 31 – Sept. 3, as the premier family-friendly destination for Labor Day weekend. In addition to the prominent art, music and restaurant participants each year, festival organizers today announced a number of new features, including a strategic partnership to spotlight the culinary, theatre and visual arts talents of local college students, and an enhanced health and wellness program with new and exciting classes for attendees, reaffirming the organizer's annual commitment to wellness.
"ZERO HUNGER ZERO WASTE" PRESENTED BY KROGER
Kroger will debut its "Zero Hunger Zero Waste" Program to fight hunger and reduce food waste as a new feature at this year's Ford Arts, Beats & Eats festival. The program will feature a collaboration with Forgotten Harvest, The Royal Oak Restaurant Association and participating Arts, Beats & Eats restaurants. More than 75 restaurants have made a commitment to the program, which will include a minimum of two large pans of food for local organizations that provide food to those in need. Nonprofits that are slated to receive the food donations include Capuchin Soup Kitchen, Detroit Rescue Mission, and Detroit Boxing Club. Each night, Arts Beats & Eats festival team members, along with additional staff and volunteers from Forgotten Harvest, will pick up donations from throughout the festival and deliver them to a Forgotten Harvest refrigerated truck.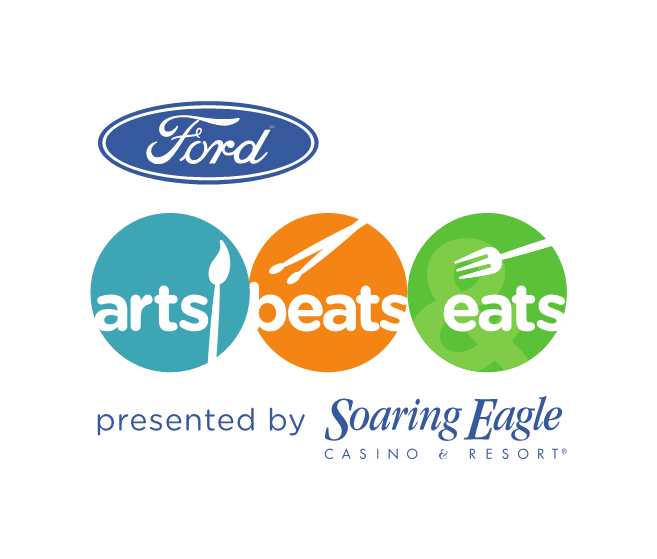 OAKLAND COMMUNITY COLLEGE MAKES THE ARTS COME TO LIFE
For the first time in the festival's history, Oakland Community College (OCC) joins Ford Arts, Beats & Eats through a strategic partnership to bring a variety of the school's visual and performing arts elements to life throughout the festival weekend. OCC and its students will participate with special live performances, art exhibitions and cooking demonstrations for attendees to enjoy and learn.
Specific events include a variety of theatrical performances on the OCC Acoustic Cultural Stage, to highlight the school's acclaimed Theatre Program. OCC students will also bring a "taste" of the OCC Culinary school with stage presentations showcasing talents from sautéing to slicing and searing with complementary samples to festival guests at the conclusion of each cooking exhibition.
OCC students will also bring art to life, not only by displaying student works of art in painting, sculptures, photography, but also with artist demonstrations in the festival fine art fair throughout the weekend.
NEW FITNESS FUN AT THE FESTIVAL
Life Time will make its return to Ford Arts Beats & Eats with new classes all weekend long for festival goers to experience. Dance Jam fitness class will kick off from 8 to 9 p.m., Friday, Aug. 31. All fitness classes will be located at Main St. and Fourth St. and will require a $10 minimum donation in order to participate with proceeds benefiting the Life Time Foundation and Ford Arts Beats & Eats festival. Life Time Foundation is committed to removing the seven most harmful ingredients that is fed to children, most commonly found in food provided by their school system.
Life Time will continue the fitness fun at 1 p.m., Saturday, Sept. 1, with a Warrior Sculpt class. Smoothie tickets will be provided to individuals who attend the class, and can be redeemed at the Life Time smoothie tent. A Gluteus Maxout class will get underway at 1 p.m., Sunday, Sept. 2. To end the festival, a Strike Class, a combination of kickboxing and MMA, will take place at 9:30 a.m., Monday, Sept. 3, with a $10 participation required donation also benefitting the Life Time Foundation. In addition to the adult workout classes, Life Time will provide 20-minute Fun Fit Kids classes that will occur every day following the adult classes.
STRIKE A POSE WITH PRIORITY HEALTH PRACTICE FOR A PURPOSE PRESENTED BY LIFE TIME
With physical fitness a clear theme of the festival, the goals at the Priority Health Practice for a Purpose remain simple and strong: empower people toward physical activity and mental wellness that includes the 2018 festival's calming and strengthening yoga classes. Courtesy of Troy and Farmington Hills-based Thrive Hot Yoga (formerly Detroit Bikram) and Royal Oak's own Citizen Yoga, two large groups classes will get yogis stretching into poses that will help find balance, peace and strength. Classes will be held Sunday, Sept. 2 at 9 a.m. and 10:30 a.m., and are $10 each or $15 for both with all fees supporting great community organizations and causes.
Thrive will present its Original Hot Yoga class beginning at 9 a.m. on Sunday, September 1st and will feature 26 postures and two breathing exercises. The all-inclusive class, recommended for all experience levels, will offer something for everyone. Citizen Yoga Royal Oak, the first yoga studio in metro Detroit to offer alignment-based Vinyasa, Blend and Slow Burn classes, will host its class at 10:30 a.m. also on the Sunday of the festival.
NEW ART TWIST TO FLAGSTAR CULTURE ON 4TH
Flagstar, the Ford Arts, Beats & Eats official bank sponsor is also bringing student art work to the festival by featuring student works of art from an Oakland County art competition for high school students. Flagstar in partnership with Oakland County Treasurer, Andy Meisner, will be exhibiting works from 15 winners of the County's Financial Literacy Art Contest that provides scholarships to high school student artists from across Oakland County. Student works of art will be judged on how well they use their artistic vision to interpret and portray different subjects of financial literacy. In addition to this new educational art exhibit, Flagstar will also provide complimentary exhibit spaces to Metro Detroit area non-profits that support the arts. These interactive spaces will be announced in late July and will also be a new addition for the festival.
The Meters Made Beautiful program, also presented by Flagstar Bank returns to Ford Arts, Beats & Eats. Local artists beautified nearly 150 parking meters in downtown Royal Oak since its inception in 2016, bringing diverse and unique works of art into the heart of the city for the public to enjoy. In 2018, the Meters Made Beautiful program will complete art work on all meters inside the festival footprint and provide art for downtown guests to enjoy year round in downtown Royal Oak.
SPONSORS FOR THE 2018 FORD ARTS, BEATS & EATS
The sponsors for the 2018 Ford Arts, Beats & Eats include: Ford, Southeast Michigan Ford Dealers, Soaring Eagle Casino & Resort, Barefoot Winery, Beaumont Health System, Budweiser, City of Royal Oak, Comcast, Detroit Shirt Company, Detroit Institute of Arts, DTE Energy, Flagstar Bank, Hansons Windows, Kroger, Leaf Filter, Lifetime Fitness, Made in Detroit, Majic Window, MetroPCS, Michigan Lottery, Motor City Hot Tubs, Oakland Community College, Oakland County, Pepsi, Priority Health, Pure Leaf Ice Tea, Renewal by Andersen, Sprint, Tito's Vodka, US Park, WDIV-TV 4 and WindowPRO.
The 21th annual Ford Arts, Beats & Eats presented by Soaring Eagle Casino & Resort, is Oakland County's premier festival held August 31 – September 3, 2018. The festival paints downtown Royal Oak with a variety of art, food and music for the community to enjoy. More than 395,000 visitors attended the 2017 Ford Arts, Beats & Eats. "LIKE" artsbeatseats on Facebook or follow us on Twitter @artsbeatseats. For additional public information, visit www.artsbeatseats.com or call 248-541-7550.
###
Media Contact: Michael Odom, Marx Layne & Company | 248.855.6777 | modom@marxlayne.com