OAKLAND COUNTY, Michigan – Former Oakland Community College student Lillian Bishop knows how to take advantage of an opportunity.
Bishop, of Ferndale, Mich., jumped on the rare opportunity to showcase her singing chops at a news conference Tuesday to kick-off the Arts, Beats and Eats festival during Labor Day Weekend in Royal Oak. She sang the iconic song in the classic Detroit Institute of Arts' 1976 TV commercial "You Gotta Have Art" at the end of Oakland Community College Chancellor Peter Provenzano's opening remarks, adapted for the kickoff event.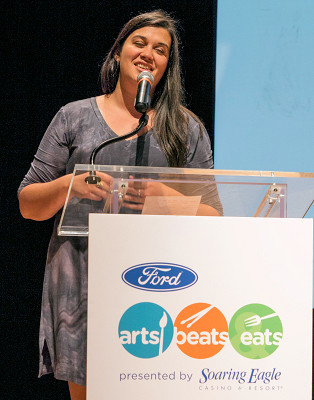 OCC is a first-time major sponsor of the festival dedicated to promoting the arts in Oakland County and beyond.
"It was an honor and pleasure to be asked to participate," said Bishop, who is the lead singer for Chateau, one of Detroit's top-ranked bands and performs voiceover and promo work locally. "I love the arts, I love performing and I love supporting my college. I had a great time doing it."
At OCC, Bishop starred in many theatre productions, including All I Need To Know I Learned In Kindergarten, Great American Trailer Park Musical, Our Town, MacBeth, and most recently in Peter and the Starcatcher.
OCC Chancellor Peter Provenzano was tickled with the idea to empower a former student.
"We have excellent music, theatre and arts programs, facilities, faculty, students and graduates," he said. "It was a delight to watch her belt out this legendary song to demonstrate to the world the importance of art in our community, the high caliber of excellent students who attend OCC, and pay homage to one of our outstanding partners in the DIA."
For more information about Arts Beats and Eats, visit artsbeatsandeats.com.
For more information about OCC, visit oaklandcc.edu.
About OCC - With multi campus system in Oakland County, OCC is Michigan's number one transfer institution, offering nearly 100 excellent degrees and certificates. The College empowers academic and developmental experiences, allowing students to reach their full potential and enhance the communities they serve. More than a million students have enrolled in the College since it opened in 1965. Learn more at oaklandcc.edu.
###
Media Contact: Marketing & Community Relations | 248.341.2020 | contactus@oaklandcc.edu