OAKLAND COUNTY, Michigan — Brains can imagine the future. But to build that future, brains need tools. And now, thanks to a partnership agreement between Oakland Community College and Autodesk Inc., students can start tinkering with tomorrow today.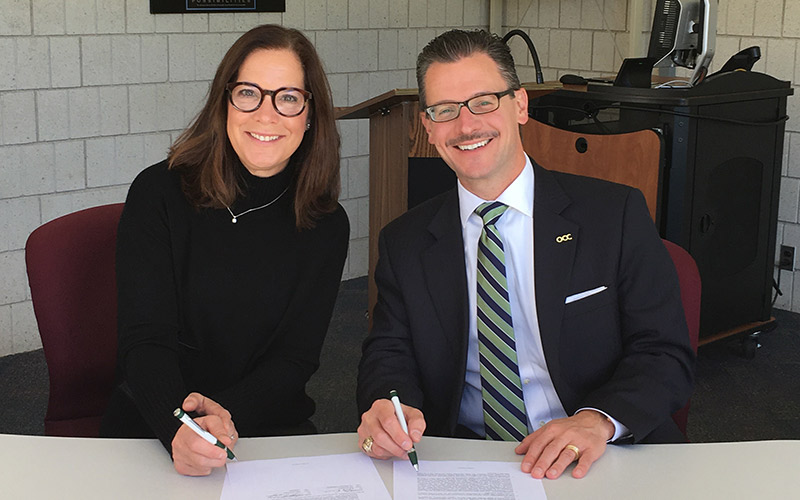 Under a memorandum of understanding signed today, the San Rafael, Calif.-based software company will provide OCC an exclusive Autodesk manager, internship opportunities for students, training for students and faculty, and opportunities for sponsorships.
"Autodesk is the gold standard in 3D modeling software," OCC Chancellor Peter Provenzano said at the signing ceremony at the Auburn Hills campus. Noting that OCC is one of only a few community colleges participating in this program, Provenzano said the college is "privileged to be among that elite group."
Provenzano connected with Autodesk and its director of customer engagement and success for the education segment, Gary Conrad, through Automation Alley, based in Oakland County. That initial encounter progressed to the point that Tahir Khan, chairman of OCC's engineering department, visited Autodesk headquarters and participated in an exclusive symposium about microfactories.
Going forward, Academic Dean Don Hutchison and Beau Everitt, an OCC professor of machine tool technology, will be guests of the company at its Autodesk University conference in Las Vegas, an event that attracts more than 10,000 participants from around the world.
"When we talk with our customers in every industry and every country, they are struggling to get the skills that they need because of automation, the retiring workforce and competing for talent in a way that they haven't typically had to in the past," Mary Hope McQuiston, Autodesk's vice president of education experiences, said at today's ceremony. "Our strategy is to partner with a number of select institutions that can work with us and address how can we keep pace with these rapidly evolving skills and the needs in the industries we serve and who are willing to work with us and understand how to do that.
"When we take a look at the students, they tend to be more receptive to new and emerging tech and present a really great test pool for us."
Provenzano told the Autodesk representatives that OCC is "very grateful for this opportunity to give our students and faculty such a powerful tool from which to learn and gain invaluable experience."
About OCC

With multi campus system in Oakland County, OCC is Michigan's No. 1 transfer institution, offering nearly 100 degrees and certificates. The College empowers academic and developmental experiences, allowing students to reach their potential and enhance their communities. More than 1 million students have enrolled in the college since it opened in 1965. A seven-person Board of Trustees governs OCC. Board members are elected on a non-partisan, at-large basis, serve as volunteers and are not paid. Learn more at oaklandcc.edu.
###
Media Contact: Marketing & Community Relations | 248.341.2020 | contactus@oaklandcc.edu