OAKLAND COUNTY, Michigan – John P. McCulloch wants the public to know a board's role is critical to the success of the organization it governs.
McCulloch, chair, Board of Trustees, Oakland Community College, has a long and distinguished history of public service, including 10 years on the Oakland County Board of Commissioners and five years as its board chair.
"Our role at OCC is to set the policy for the college as well as to carry forward the vision of the college on behalf of the community," said McCulloch, who was elected to the OCC Board of Trustees in 2014 and named board chair by his fellow trustees in 2017.
"Our board works collaboratively with each other and the chancellor (Peter Provenzano) to make sure that is accomplished. We have the responsibility to set forth the agenda and to make sure we address those needs when it comes to policy making and the mission as established by the community."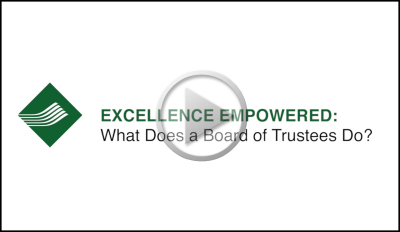 McCulloch sees his role as a facilitator.
"What I like most about our board is we come from all walks of life and have a lot to contribute," he said. "We all respect each other and our views, and that makes us a very productive board."
As a result, OCC empowers excellence in a myriad of ways, he said.
"We put as a top priority our facilities, the caliber of our faculty as well as the programs and certifications we offer," McCulloch said.
To view a video of McCulloch's interview on "What Does a Board of Trustees Do?" visit https://tinyurl.com/y8f3wepz
McCulloch specializes in financial and strategic planning, merger and acquisitions and contract negotiations. He is an executive consultant for APM Enterprises in Royal Oak, where he advises companies and municipalities regarding acquisitions, business development, organizational alignment and improvement and fiduciary compliance. He earned a juris doctor degree at Detroit College of Law, a bachelor of accountancy at Walsh College and is a Certified Public Accountant and Licensed State of Michigan attorney and real estate broker.
About OCC - With multi campus system in Oakland County, OCC is Michigan's number one transfer institution, offering nearly 100 excellent degrees and certificates. The College empowers academic and developmental experiences, allowing students to reach their full potential and enhance the communities they serve. More than a million students have enrolled in the College since it opened in 1965. Learn more at oaklandcc.edu.
###
Media Contact: Marketing & Community Relations | 248.341.2020 | contactus@oaklandcc.edu