OAKLAND COUNTY, Michigan – From California to the New York islands, this dinner is made for you (and me). Join us for a sampling of some of our nation's finest food and drink as Oakland Community College's award-winning culinary studies program hosts "America Coast to Coast" from 6 to 9 p.m.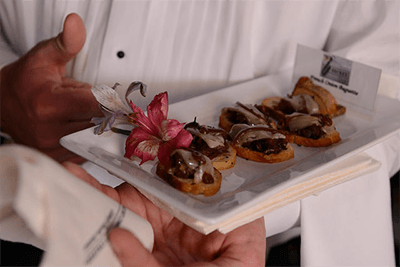 Thursday, Oct. 11, 2018.
The themed dinner will be served at OCC's Culinary Studies Institute, J Building, 27055 Orchard Lake Road in Farmington Hills.
Under the eyes of chef instructors, CSI students research, plan, prepare and serve a genuine experience in the pursuit of happiness. Begin with a strolling cocktail hour serving hors d'oeuvres and signature drinks, followed by five courses infused with the season's fresh flavors.
Afterward, you can tell your new friends you delightfully ate their homework.
Tickets are $55 and can be purchased by visiting the Special Events page or calling 248.522.3700.
About the OCC Culinary Studies Institute - OCC's Culinary Studies Institute is Michigan's premier hospitality school. The largest of the Institute's programs, culinary arts, gives students a combination of classroom and hands-on experience. Besides spending extensive time in kitchen labs cooking and baking, students develop expertise in specialties such as ice carving and wine and spirits. Students also participate in events such as the annual Great Lakes Wine Tasting at the student-run Ridgewood Café, a restaurant on the Orchard Ridge Campus.
About OCC - With multi campus system in Oakland County, OCC is Michigan's No. 1 transfer institution, offering nearly 100 degrees and certificates. The College empowers academic and developmental experiences, allowing students to reach their potential and enhance their communities. More than 1 million students have enrolled in the college since it opened in 1965. Learn more at oaklandcc.edu.
###
Media Contact: Marketing & Community Relations | 248.341.2020 | contactus@oaklandcc.edu