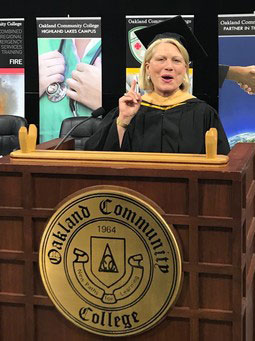 SOURCE: MICHIGAN DEPARTMENT OF STATE -- Lansing, Michigan -- Secretary of State Ruth Johnson delivered a heartfelt commencement address at two Oakland Community College graduation ceremonies on Saturday, May 19, in Rochester, Michigan.
Johnson, an Oakland Community College alumnus, spoke to 4,800 attendees, including graduates, guests and faculty, recalling her college days as a "great life experience."
"You may not realize it or feel the full weight of it, but today, the trajectory of your life just shifted," Johnson told the graduates. Today, the road you are traveling just got wider … your options are now exponentially greater than they were just hours ago."
Johnson spent two years at OCC's Highland campus, earning an associate degree in 1975 before going on to earn subsequent degrees from Oakland University and Wayne State University.
Throughout the commencement address, Johnson stressed the importance of individual ingenuity, civic involvement and self-reliance.
Johnson's introduction into public service began with her efforts to protect groundwater in her hometown of Waterford. Her journey to Lansing included tenures as an Oakland County Commissioner, State Representative and Oakland County Clerk. She was elected Michigan Secretary of State in 2010 and is currently serving her second and final term.
###
Media Contact: Secretary of State Media Office | 517.373.2520