OAKLAND COUNTY, Michigan — Oakland Community College is helping Katie and Sarah Daniel of Waterford Township get a leg up on their education as they get a leg up—and up, and up, and up—on their dreams.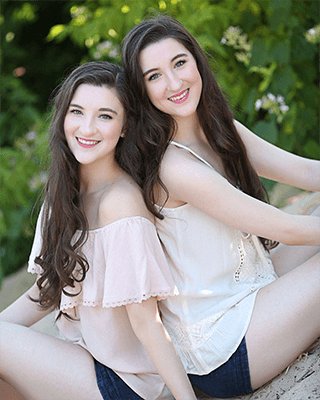 In late September, Katie and Sarah will depart for New York City, where they will join other new members of the Radio City Rockettes. After a week of training, they will begin rehearsals for the Radio City Christmas Spectacular—the holiday tradition that cast its spell on the identical twins as 8-year-olds.
To become a Rockette, a young woman needs to be between 5 foot 6 and 5-10 and be proficient in ballet, jazz and tap—which Katie and Sarah are, and then some. One thing they were not at the time was 18, and teenage dancers rarely are hired for the Rockettes.
Yet at age 16, the twins auditioned with more than 1,000 others for two of the nearly 80 spots in the Rockettes Summer Intensive's invitational training week. Two summers later, they returned and were hired.
Growing up, Katie and Sarah's demanding training schedule of almost 30 hours a week led the girls to explore home schooling. After graduating at age 16, they needed their next step into higher education to accommodate their ambitions and schedules.
Oakland Community College was the perfect place, says Katie and Sarah's mother, Hope Daniel. The Highland Lakes campus is near their home, and OCC offered the flexibility to take classes around their schedules and keep training.
The twins are taking general education courses toward earning an associate's degree. OCC made it easy to pick classes and transfer if they want to pursue a four-year degree.
"They loved OCC," Hope said. "How many places can you go and start in this kind of way?"
OCC always seemed to be part of their circle, she says. A neighbor teaches at the college, and she is close with Admissions Director Laurie Huber, who has been a great supporter of the girls and an incredible cheerleader for OCC.
Katie and Sarah's long-term goal: Finish their associate's degree and then earn a degree in—no, not dance, but business. After they finish their dance careers, they may open a studio or small business.
Besides dance, both girls in 2017 competed in the Miss America Scholarship system, where Katie won Miss Bridge Fest 2018. She went on to compete in Muskegon this past June and placed second runner-up in the Miss Michigan pageant. On the first night of the competition, Katie won the preliminary talent award.
Previews for the coming holiday season's Christmas Spectacular begin Nov. 9 at Radio City Music Hall in New York, and the show runs through New Year's Day. The Rockettes eliminated their traveling program and now perform in New York only. The first time the Daniel family will see the show is at Radio City. With their daughters on stage, identical right down to their dance steps.
While Katie and Sarah don't know whether they will perform together in the same cast (two casts share the performances), their having achieved their life-long dream testifies to the strength of their bond as twins.
After that, their next step is to return to OCC for the winter semester.
About OCC - With multi campus system in Oakland County, OCC is Michigan's No. 1 transfer institution, offering nearly 100 degrees and certificates. The College empowers academic and developmental experiences, allowing students to reach their potential and enhance their communities. More than 1 million students have enrolled in the College since it opened in 1965. Learn more at oaklandcc.edu.
###
Media Contact: Marketing & Community Relations | 248.341.2020 | contactus@oaklandcc.edu