SOURCE: Oakland Community College Faculty Association – Oakland County, Michigan – The Faculty at Oakland Community College are demonstrating their commitment to the local community through expanded charitable efforts aimed at students and others in need throughout Oakland County.
On May 11, 2018, Oakland Community College Faculty Association (OCCFA) members delivered 37 large boxes filled with school supplies donated by members of the Oakland Community College (OCC) community to the offices of the Pontiac Education Association, the union representing teachers of the Pontiac School District. This delivery is the first of two such deliveries planned for this year. "We've been collecting supplies for local students for quite a while now," says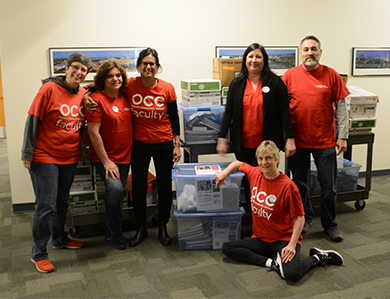 Communication Faculty member and OCCFA President, Robyn Tennison. "We generally collect in the Fall, but the teachers in Pontiac were really in need of fresh supplies to see them through the last few weeks of the school year and into the beginning of the new year. So, our Outreach Committee stepped up and got the word out to faculty, students and other OCC staff members and they responded in a big way! We had boxes piled to the ceiling and overflowing into the hallways."
School supplies are not the only thing OCCFA members are working to deliver to local students. Since September 2017, OCC Faculty have been working with Blessings in a Backpack at Riverside Elementary in Waterford every week to fill weekend food packs for students in need. "Oakland County has nearly 60,000 students who receive federal lunches each day at school. For some, this is their only meal each day," says Psychology Faculty member and OCCFA Philanthropic Outreach Committee Co-Chair, Dr. Krishna Stilianos, "Blessings in a Backpack provides weekend food support for these students and we are honored to be part of this great effort."
The Faculty at OCC have always supported charitable causes. This year, the Academic Senate at the college began a focus on students in need that is leading to a variety of efforts to provide supports to those students who are in need. OCCFA, the faculty union, is both supporting the Senate efforts and engaging in additional efforts. In addition to the school supply drive and Blessings in a Backpack efforts, OCCFA's plans for the remainder of the year include contributing to The Garden Party on June 10th at Meadowbrook Hall, which provides professional trade scholarships to underprivileged young adults, and to other OCC Foundation scholarships that help students pursue their academic work at the College; packing food deliveries on July 13th at Forgotten Harvest; and participating in the Autism Speaks Walk on September 15 and the American Cancer Society's Walk for Breast Cancer on October 27. "Members of the OCC community, including employees, students, parents, and Oakland County residents are welcome to join us in any of these efforts," says Tennison. "The more people we have involved, the more support we can provide to each of these deserving organizations."
For more information on Blessings in a Backpack, go to www.blessingsinabackpackmi.org. For more information on the Garden Party, go to www.thegardenpartymichigan.org. To join or support the Oakland Community College Faculty and Friends team at the Autism Speaks Walk, go to www.autismspeaks.org, click <Walk> and search for our team. For more information on any of OCCFA's other charitable activities, write to occfacouncil@gmail.com.
The Oakland Community College Faculty Association is a member of the Michigan Education Association (MEA) and the National Education Association (NEA). OCCFA – United for Student Success.
Oakland Community College offers high quality, affordable education and access to degree and certificate programs at multi campus system throughout Oakland County. Oakland Community College – Excellence Empowered.
###
Media Contact: Robyn Tennison | President, OCCFA | occfacouncil@gmail.com | 248.942.3352