OAKLAND COUNTY, Michigan – Even a dream has to have one foot firmly planted in reality. For occupational therapy student Joel Zizi, setting foot in a university just didn't seem like a good first step. And so he took his ambitions and built the foundation of his college experience at Oakland Community College.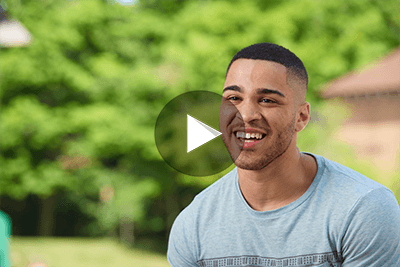 "I enrolled at OCC because I believed that it would provide an experience for me that I wouldn't have gotten at a university," Zizi said. "Ultimately, I didn't feel that I was prepared to go to a university, and this was cost-effective and allowed me to experience college without actually being at a university.
"Oakland Community College has prepared me because it structured me with the academics I needed to succeed. … It's definitely helped shape me into who I am today."
When students such as Zizi are ready to take that next step, OCC offers dozens of paths to transfer, making the experience seamless.
"It's definitely provided a template and made me more comfortable with the guidelines before and going into the transfer process," Zizi said. "I'm not too rushed. It's a pretty smooth transition, and I got most of my general credits out of the way."
OCC works closely with colleges and universities across Michigan to ensure that the list of classes that transfer is accurate and up to date. Counselors also have immediate access to other transfer information and will work closely with students to ensure a smooth process.
Said Zizi, "It's always good knowing that they have your back and you can come back here."
To hear more about Zizi's story, visit OCC's YouTube channel.
About OCC - With multi campus system in Oakland County, OCC is Michigan's No. 1 transfer institution, offering nearly 100 degrees and certificates. The college empowers academic and developmental experiences, allowing students to reach their potential and enhance their communities. More than 1 million students have enrolled in the College since it opened in 1965. Learn more at oaklandcc.edu.
###
Media Contact: Marketing & Community Relations | 248.341.2020 | contactus@oaklandcc.edu