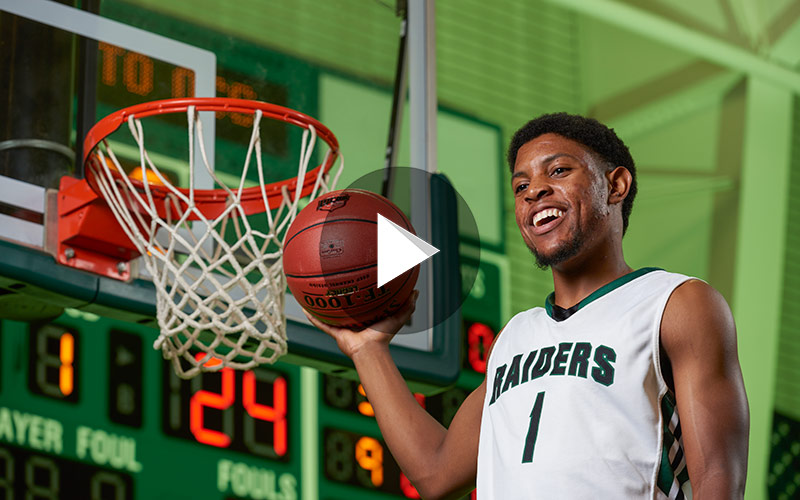 OAKLAND COUNTY, Michigan – When Michigan native John Slater graduated from a high school in Georgia and was ready to come home, OCC Athletics offered him a home court.
"I chose to come to OCC because they welcomed me and they offered me a scholarship to come play, so I was just very honored and blessed to play here," Slater said.
Since his arrival, the sophomore guard has become a leader on and off the court.
His name can be found on OCC's academic roster — the Dean's List — as well as the Academic All-MCCAA Honors List for his achievements in the classroom. When he's not playing basketball, Slater can be found helping his fellow athletes with their academics.
"He plays a good game, is a great student and an all-around great person," said Antoine Joubert, OCC's men's basketball coach. "We love having him as a part of the team."
And Slater loves the team right back.
"What I love best about OCC basketball is we play well, and the coaches are real cool," he said. "We go out there and win all the time."
This business student also enjoys the campus atmosphere. Slater points to the outstanding faculty and the opportunity to meet new people as two of his favorite things about OCC.
"You'll love it, you'll enjoy it," he said. "Especially if you want to pursue your degree or go further, OCC is the place to be."
Be sure to follow Slater's athletic journey starting November 3 with a game in Perrysburg, Ohio, against Owens Community College. To hear more about Slater's story, visit OCC's YouTube channel.
About OCC

With multi campus system in Oakland County, OCC is Michigan's No. 1 transfer institution, offering nearly 100 degrees and certificates. The College empowers academic and developmental experiences, allowing students to reach their potential and enhance their communities. More than 1 million students have enrolled in the college since it opened in 1965. A seven-person Board of Trustees governs OCC. Board members are elected on a non-partisan, at-large basis, serve as volunteers and are not paid. Learn more at oaklandcc.edu.
###
Media Contact: Marketing & Community Relations | 248.341.2020 | contactus@oaklandcc.edu