OAKLAND COUNTY, Michigan – Being a trained firefighter, emergency medical technician and police officer all at once is not a common combination, but that's what Jon Roberts is. As an officer for the city of Berkley and a volunteer firefighter in Troy, Roberts trusted Oakland Community College for all his training.
"I joined Troy's Fire Department as soon as I turned 18, and they sent me to OCC's Fire Academy," Roberts says. "The facilities were great and the instructors were so fantastic. So when I went to get my EMT basic, I came back. Then when I went to the Police Academy, I came back a third time."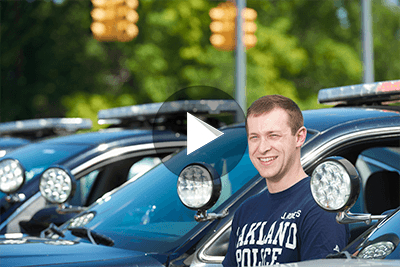 "It's not too common for someone to do all three, but Michigan has the most public safety departments out of any other state in the country, so it's more common here than anywhere else."
OCC is not only the largest provider of training for emergency-response teams in Oakland County, but its Fire Academy is the only nationally and internationally accredited program in Michigan. Public safety departments all over Michigan send employees here for training.
"I was assigned here, but I liked it so much," Roberts says. "The equipment is great. I don't know of any other college that has a mini city built in for us to do our training. You can use all these different buildings for any kind of scenario you can imagine.
"It's just nice to have that kind of hands-on experience instead of just sitting in a classroom all the time."
The mini city Roberts is referring to is CREST, a virtual live lab on the Auburn Hills campus where scenarios based on real-world problems become invaluable learning tools.
Scenarios can be repeated in a controlled setting so trainees can work through them until their skills are mastered. This internationally recognized approach of "scenario-based training" means the trainees will retain the lesson at a greater level than could be expected from classroom presentations alone.
If you are interested in receiving training or information about upcoming police, fire, EMS or dispatch classes, visit oaklandcc.edu/crest.
To hear more about Roberts' story, visit OCC's YouTube.
About OCC
With multi campus system in Oakland County, OCC is Michigan's No. 1 transfer institution, offering nearly 100 degrees and certificates. The College empowers academic and developmental experiences, allowing students to reach their potential and enhance their communities. More than 1 million students have enrolled in the college since it opened in 1965. A seven-person Board of Trustees governs OCC. Board members are elected on a non-partisan, at-large basis, serve as volunteers and are not paid. Learn more at oaklandcc.edu.
###
Media Contact: Marketing & Community Relations | 248.341.2020 | contactus@oaklandcc.edu