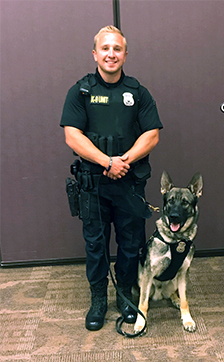 OAKLAND COUNTY, Michigan — When the Oakland Community College K-9 training program graduated five dogs and trainers in its latest class, two of the graduates were an especially moving reminder of the service and sacrifice of one young man: Collin Rose, a Wayne State University police officer killed in November 2016 while patrolling campus with his K-9 companion, Marsha.
Bruno and Cooper were donated to serve in the K-9 program in memory of Rose, serving as a powerful reminder of how man's best friend can be his best partner, especially in an antagonistic situation.
OCC's program began training police canine teams in the spring of 1998. This academy-structured program is not only the first of its kind but also the top provider of training in Michigan. Program coordinator Robert Loken is an Oakland County sheriff's deputy with more than 13 years' experience working with the K-9 unit as a trainer and handler.
"All of the trainers here do the job that we teach, that we preach," Loken said. "Everything we talk about, we've done, and I implore these young men to learn from our mistakes."
The five K-9 teams will return to serve police departments throughout Oakland County. Bruno, the youngest dog in the academy, will return to the Oakland County Sheriff's Department and Cooper to the Waterford Township Police Department.
Loken appreciates "having the opportunity to see these guys work and being able to motivate them." In some moments, he said, "we step back and we remember training with Collin and see Collin's legacy live on."
Three weeks before Rose's death, Loken said, he trained with Rose. He remembers him as a "great handler and great guy."
"These two dogs … we hope you will carry on his tradition."
For more information visit the K9 program page.
About OCC - With multi campus system in Oakland County, OCC is Michigan's number one transfer institution, offering nearly 100 excellent degrees and certificates. The College empowers academic and developmental experiences, allowing students to reach their full potential and enhance the communities they serve. More than a million students have enrolled in the College since it opened in 1965. Learn more at oaklandcc.edu.
###
Media Contact: Marketing & Community Relations | 248.341.2020 | contactus@oaklandcc.edu