OAKLAND COUNTY, Michigan – Oakland Community College announces the appointment of Lori Przymusinski to vice chancellor for student services, from interim vice chancellor, effective August 15. A member of the college's executive team, Przymusinski started at OCC in 2006 as a faculty member in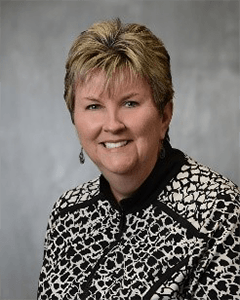 nursing. She took on progressive responsibilities as dean of nursing and health professions, dean of campus affairs and named interim vice chancellor in 2017.
"Lori has distinguished herself during her tenure at OCC, serving in a variety of progressive leadership roles, dedicated to student success and moving the college forward," OCC Chancellor Peter Provenzano said. "Her hard work, innovation, dedication, passion and leadership is a driving force in the college's commitment to providing excellent services to all students."
As vice chancellor for student services, Przymusinski is responsible for oversight of enrollment services, counseling, financial aid, scholarships and student life at five campus sites; the Registrar's office; and college-wide career services, Veteran's affairs and athletics.
Under her leadership, the college has joined the JED Foundation in partnership with the University of Michigan Healthy Minds study to address student mental health on college campuses.
"As a community college graduate and first-time college graduate in my family, I value the ease of navigation and taking down barriers for students. I've been in their shoes and am passionate about their success," said Przymusinski. "My focus is on the enhancement of student/customer service and the implementation of technology solutions to improve their experience here."
Prior to joining OCC, Przymusinski had more than 20 years of progressive responsibilities at Beaumont Health System, bringing a customer service mindset from healthcare.
Przymusinski is an alumni of Oakland Community College having earned an Associate Applied Science-Nursing (RN) and certificate-Licensed Practical Nurse (LPN). She went on to earn a Bachelor of Science-Nursing (BSN) from Oakland University and Master of Science Nursing (MSN) from University of Phoenix. She is an active member of the Michigan Community College Student Services Association and Michigan Nurses' Association and is a new member of Rochester Regional Chamber.
She is a resident of Rochester, MI.
About OCC: With multi campus system throughout Oakland County, OCC offers degrees and certificates in nearly 100 career fields and is the state's largest transfer institution for four-year degrees in business, science and liberal arts. More than a million students have enrolled in the college since it opened in 1965. Learn more at oaklandcc.edu.
###
Media Contact: Marketing & Community Relations | 248.341.2020 | contactus@oaklandcc.edu