OAKLAND COUNTY, Michigan – July 21, 2018 – Growing up, Malcolm Berry looked for ways to connect with the community. He volunteered his time and he served with the Marine Corp. His next step: college.
OCC was his clear choice based on its mission of serving the community. Upon becoming a student, Berry, discovered the college also had a veteran-friendly atmosphere.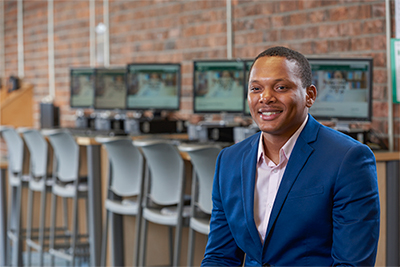 "OCC instructors tend to acknowledge that you are a veteran and that you may have different learning capabilities than those who are not veterans," said Berry. "They also help veterans adjust to the classroom."
"There is a huge cultural difference between here and the military. One thing instructors will take on is the responsibility to make sure all students are comfortable in class, including veterans that might have been in 'not so hot places.' They help break the ice between you and maybe a high school graduate or dual enrolled student."
Oakland Community College was awarded Gold Veteran-Friendly status in late 2017 by the Michigan Veterans Affairs Agency (MVAA) for its commitment to supporting the needs of student veterans and dependents.
"This award is an acknowledgment that OCC values our veterans and their service to our country," said Sandra Strong, manager of student financial resources. "Providing the best possible support and resources for veterans and their dependents has always been a priority for the college. Our work is to continue to improve and expand our services to meet the needs of our military families and help them achieve their academic and career goals."
"It doesn't matter where you come from, I've found the services here are great for veterans," said Berry, who is currently studying business.
OCC participates in six veterans educational benefits plans with most College programs approved by the Veterans Administration for enrollment. To learn more about veteran services at OCC, visit https://oaklandcc.edu/finaid/va-benefits.
To hear more about Berry's story, visit OCC's Facebook.
About OCC - With multi campus system in Oakland County, OCC is Michigan's number one transfer institution, offering nearly 100 excellent degrees and certificates. The College empowers academic and developmental experiences, allowing students to reach their full potential and enhance the communities they serve. More than a million students have enrolled in the College since it opened in 1965. Learn more at oaklandcc.edu.
###
Media Contact: Marketing & Community Relations | 248.341.2020 | contactus@oaklandcc.edu