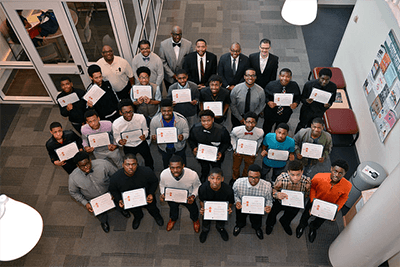 OAKLAND COUNTY, Michigan — Next Man Up is a common sports expression, meaning an athlete takes the place of another.
For Melvin Moore, it has a whole new meaning.
Moore knows firsthand how the Man Up program at Oakland Community College has empowered his three sons to lead successful lives:
Donovan Moore, 23, a graduate of Adrian College, is now a manager at Enterprise Rent-A-Car.
Brandon Moore, 20, is studying business management in his third year at Kentucky State University.
Jacob Moore, 19, is in his second year studying pre-law at Michigan State University's College of Law.
Man Up is an OCC student organization that helps male students more easily transition into college life. Throughout the winter semester, the group participates in academic and co-curricular workshops designed to help students achieve personal, educational and professional goals.
"Man Up teaches them to work with other people," Moore said. "It teaches them the value of friendships and networking. It shows them what it takes to be an educated man. It shows them the value of sacrifice, of sitting in the classroom. I'm very impressed with the program."
Man Up, housed at OCC's Southfield campus, accommodates about 40 students per year.
"We work with a myriad of faculty and staff who serve as guest presenters for the students," said Jahquan Hawkins, dean of student services at OCC's Auburn Hills campus, a founder of the program and now co-director along with Dr. Lloyd Crews, a political science faculty member at the Southfield campus. Associate Dean Stacey Jackson is the program coordinator.
Since the 10-week program began in 2011, more than 200 young men have participated in Man Up. The program initially took students from only the Southfield Public Schools, but has since expanded to also encompass 10th- through 12-graders from the Birmingham, Hazel Park and Oak Park school districts.
"This change has proven to be healthy for classroom discussion," Hawkins said. "We remind our students that, although they may look similar in hue, their experiences are vastly different."
Besides the requisite work improving study skills, time management and note-taking, the program addresses maintaining healthy relationships, financial well-being and career readiness.
"We emphasize the fact that obstacles will inevitably come about," Hawkins said. "But we teach them how to navigate the various potential pitfalls our world will throw at them. There is, unfortunately, a large achievement gap between men of color and just about every other measurable college-going population. Man Up arms students with the soft skills needed to better adjust to the culture of higher education."
Next Man Up.
The next cohort of the Man Up program will begin in February 2019. For more information, contact Jahquan Hawkins at jchawkin@oaklandcc.edu.
About OCC

With multi campus system in Oakland County, OCC is Michigan's No. 1 transfer institution, offering nearly 100 degrees and certificates. The College empowers academic and developmental experiences, allowing students to reach their potential and enhance their communities. More than 1 million students have enrolled in the college since it opened in 1965. A seven-person Board of Trustees governs OCC. Board members are elected on a non-partisan, at-large basis, serve as volunteers and are not paid. Learn more at oaklandcc.edu.
###
See photographs from the recent Man Up graduation ceremony.
Media Contact: Marketing & Community Relations | 248.341.2020 | contactus@oaklandcc.edu