OAKLAND COUNTY, Michigan — English Professor Suba Subbarao's work in the classroom to help her students, in the words of a colleague, "find their voice and their place" speaks for itself. And now a statewide organization devoted to her passion for developmental education says Subbarao's place is at the head of the class among her peers.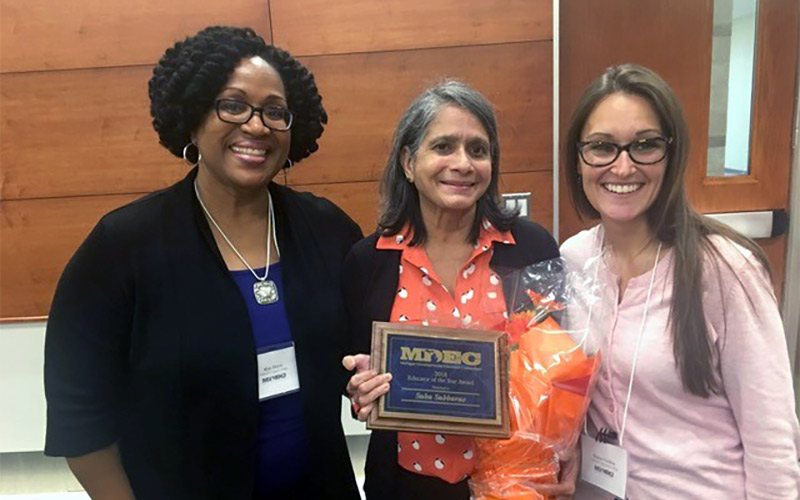 Subbarao will receive the Michigan Developmental Education Consortium's Educator of the Year award at a luncheon Friday, October 19, during the 2018 MDEC Conference at Lansing Community College. The nonprofit MDEC serves education by creating a network for educators to research and share best practices, refine strategies for high-quality programs and advocate for developmental education.
"Suba moves the needle in teaching developmental education," said Cindy Carbone, OCC's academic dean of communication, arts, and humanities. "She is not only committed to students but also open to collaborating with other faculty to better student success. Her dedication to OCC is incredible, and I am thrilled to have her as a part of the team."
This fall, Subbarao teaches Academic Literacy II and Composition II online and serves on a committee to develop a new Global Literacy Endorsement at OCC. She also has taught English developmental courses and created an English Boost course, now called English Essentials, that has become a popular course at all five OCC campuses.
In her letter nominating Subbarao, Sharon Cicilian, a member of the English faculty and coordinator of the Academic Literacy Program on OCC's Auburn Hills campus, cited the "high success rates in her literacy classes." Subbarao teaches developmental English "as an opportunity to help students find their voice and their place in college," Cicilian wrote. "She often states that she is both awed and humbled by the challenges her students confront, and to boost their confidence to handle college-level classes is truly rewarding."
Subbarao, who has a master's degree in English, also has taught classes such as Introduction to Shakespeare and Professional Communication. She also developed the first online class at OCC in 1996 and was the only instructor to teach online for the first four years in which such classes were offered at the college. Formerly, Subbarao chaired the English department at the Auburn Hills campus and holds the record for longest-serving chair. Her OCC involvement continues through various committees, "often juggling more than four committees yearly," Cicilian wrote.
"If there is a spirit of collegiality to embody, Professor Subbarao's is the one people should strive to mimic."
Subbarao's previous honors include outstanding faculty member at the Auburn Hills campus and Outstanding Online Educator, an award presented by the Alliance for Excellence in Online Education.
About OCC

With multi campus system in Oakland County, OCC is Michigan's No. 1 transfer institution, offering nearly 100 degrees and certificates. The College empowers academic and developmental experiences, allowing students to reach their potential and enhance their communities. More than 1 million students have enrolled in the college since it opened in 1965. A seven-person Board of Trustees governs OCC. Board members are elected on a non-partisan, at-large basis, serve as volunteers and are not paid. Learn more at oaklandcc.edu.
###
Media Contact: Marketing & Community Relations | 248.341.2020 | contactus@oaklandcc.edu