OAKLAND COUNTY, Michigan –OCC business student Robert Moffa presents like a seasoned CEO. When asked what advice he would give students he replies, "Work hard, focus and give 110%, and you will get nothing but great results."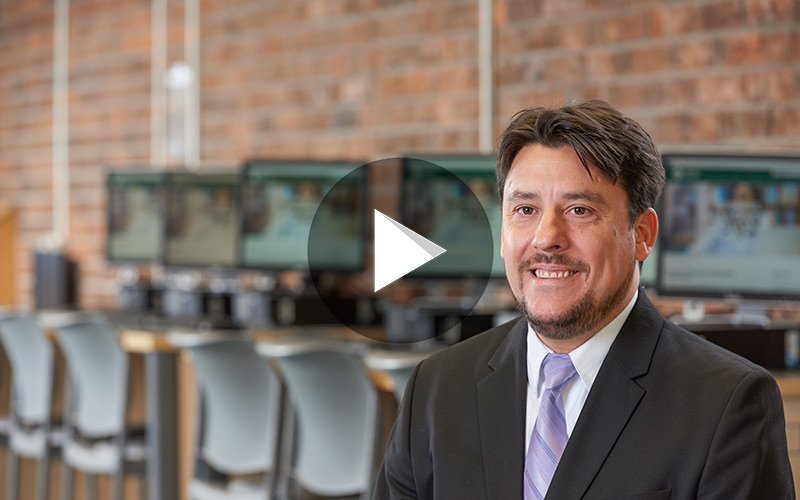 He appreciated this mantra working in occupational therapy as his first career out of college where he helped patients overcome their own obstacles. He refined it watching his father grow a successful commercial business in two states – Michigan and Florida.
Fast-forward more than a decade later when Moffa began picking up business classes to fill a void he was feeling in his career. It was then he became interested in switching things up for himself.
He credits the atmosphere at Oakland Community College as one of the most named reasons individuals choose to come to OCC.
"The faculty at OCC definitely came across to me as very upbeat, very outgoing, very willing to go to the next step or go to the next level on whatever it takes to accommodate you with anything that you may need for any of the programs or any of the classes that I may be taking," Moffa said.
He also found every demographic represented on the college's multi campus system across Oakland County, adding to the experience of higher learning and juxtaposition to business.
"Even if students aren't going in the business program it's still a very business-like atmosphere with students of all different ages and cultures and backgrounds," Moffa said. "It's amazing. It's an enjoyable environment to be in."
More than just an amazing atmosphere, OCC has award-winning faculty that always go the extra mile to ensure our students achieve their academic goals.
What's next for Moffa? Following in his father's footsteps and succeeding with great results.
To hear more from Moffa and other students, visit OCC's YouTube channel.
About OCC
With multi campus system in Oakland County, OCC is Michigan's No. 1 transfer institution, offering nearly 100 degrees and certificates. The College empowers academic and developmental experiences, allowing students to reach their potential and enhance their communities. More than 1 million students have enrolled in the college since it opened in 1965. A seven-person Board of Trustees governs OCC. Board members are elected on a non-partisan, at-large basis, serve as volunteers and are not paid. Learn more at oaklandcc.edu.
###
Media Contact: Marketing & Community Relations | 248.341.2020 | contactus@oaklandcc.edu