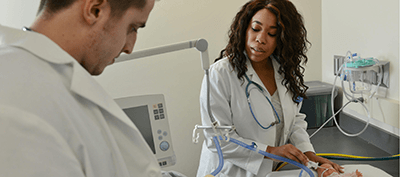 OAKLAND COUNTY, Michigan – A sigh of relief – that feeling of happiness after exams are over and your future opens up. OCC's respiratory therapy graduates breathe with excellence – year after year – with the highest professional recognitions proving their future is solid.
OCC's Respiratory Therapy program recently received top recognition for Distinguished Registered Respiratory Therapist (RRT) Credentialing Success by the national Commission on Accreditation for Respiratory Care.
This award recognizes educational excellence to institutions with high three-year graduate average on the highest professional credential (RRT) their graduates can obtain. OCC has obtained over a 93% pass rate for the past four years.
"Graduating respiratory program students are only required to obtain the lower certification, they have consistently obtained the higher credential and work throughout hospitals in southeastern Michigan," said OCC Director Sue Work, respiratory therapy program.
Respiratory therapy health professionals specialize in patient care for those with respiratory diseases. Employment prospects for graduates are excellent with 23% growth projected over the next eight years.
According to Work, OCC graduates are well prepared to fill that need, empowered with the highest credential of RRT secured early in their early training.
For more information on OCC's Respiratory Therapy program, visit our website.
About OCC - With multi campus system in Oakland County, OCC is Michigan's number one transfer institution, offering nearly 100 excellent degrees and certificates. The College empowers academic and developmental experiences, allowing students to reach their full potential and enhance the communities they serve. More than a million students have enrolled in the College since it opened in 1965. Learn more at oaklandcc.edu.
###
Media Contact: Marketing & Community Relations | 248.341.2020 | contactus@oaklandcc.edu