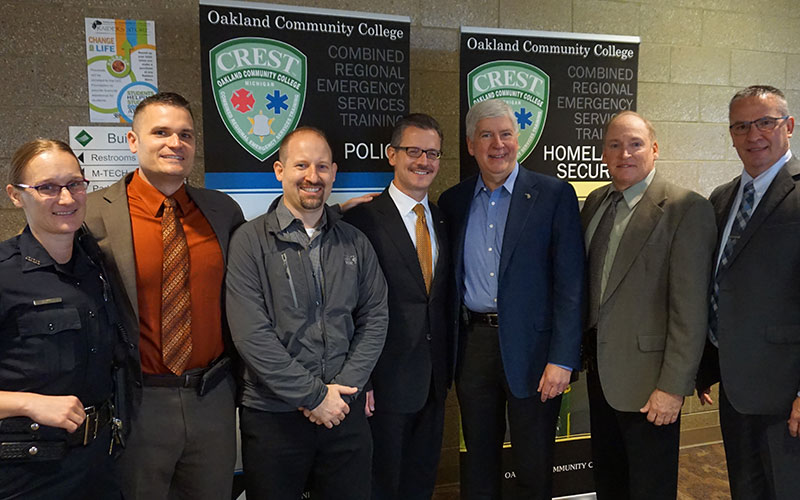 OAKLAND COUNTY, Michigan — In the aftermath of any act of terrorism, the people who come to be called "heroes" often are the ones who, before chaos calls, perform their duties under the title of "first responder."

These first responders — and the hazards and threats they face — were the focal point of the second annual Trends in Terrorism Symposium, hosted by Oakland Community College on Oct. 11 and 12 at its Auburn Hills campus. The event was led by the college's criminal justice and homeland security programs and supported by OCC's Oakland Advanced Police Academy.
Attending the two-day event were nearly 200 representatives from at least 50 local, state and national agencies. They include police, fire and EMS departments; the Michigan State Police; the FBI; the U.S. Department of Homeland Security; U.S. Customs and Border Patrol; and military personnel.
Among the symposium topics: "Las Vegas Shooting: The Responder's Perspective"; "Current National Cyber Threat"; "Artificial Intelligence and Homeland Security"; "Terrorism, Subversion and Radicalism: A Case Study"; "Uses and Challenges of Social Media"; and "The Threats Against First Responders," a case study of the July 2016 slayings of five Dallas police officers.
The two-day conference was organized and co-chaired by OCC faculty members Ken Aud, criminal justice, and Ken Van Sparrentak, homeland security.
"The focus of the conference is on proactive approaches to combating the continuing war on terrorism in our country," Aud said. "The agenda was developed not only to provide new information but also revisit recent events to better prepare for the future."
Van Sparrentak said the reputation of the conference "is growing as we continue to bring in nationally renowned experts on current threats and technologies. Recognizing the hazards and threats that our first responders may encounter, this conference is committed to preparing those that respond to protecting all of us."
OCC's event partners were the CIA, FBI, Oakland County Homeland Security and the Southfield Police Department. The keynote speaker on the first day of the conference was Gov. Rick Snyder.
About OCC

With multi campus system in Oakland County, OCC is Michigan's No. 1 transfer institution, offering nearly 100 degrees and certificates. The College empowers academic and developmental experiences, allowing students to reach their potential and enhance their communities. More than 1 million students have enrolled in the college since it opened in 1965. A seven-person Board of Trustees governs OCC. Board members are elected on a non-partisan, at-large basis, serve as volunteers and are not paid. Learn more at oaklandcc.edu.
###
Media Contact: Marketing & Community Relations | 248.341.2020 | contactus@oaklandcc.edu