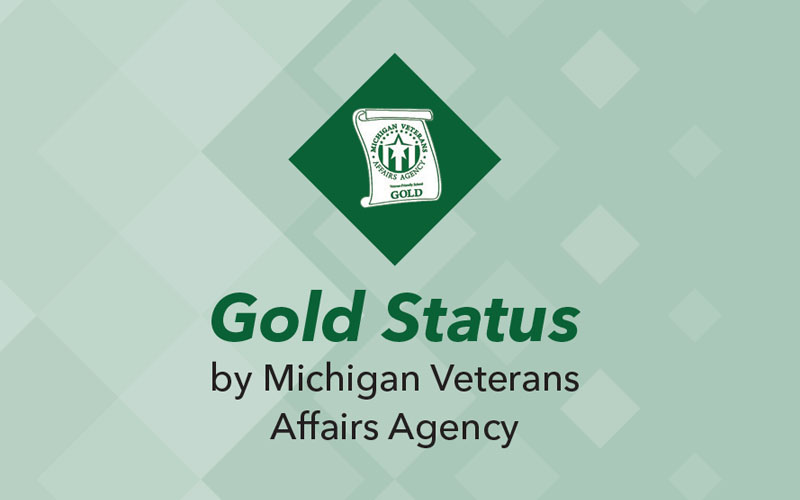 OAKLAND COUNTY, Michigan – Oakland Community College was awarded Gold Veteran-Friendly status by the Michigan Veterans Affairs Agency (MVAA) for its commitment to supporting the needs of student veterans and dependents. This is OCC's third consecutive award, with the first award received for Silver status.
"This award is an acknowledgment that OCC values our veterans and their service to our country," said Sandra Strong, manager of student financial resources and scholarships.
"Providing the best possible support and resources for our veteran students and their dependents has always been a priority for the college. We strive to be their college of choice as we expand our services to meet the unique needs of military families and help them achieve their academic and career goals."
In order to achieve veteran-friendly award status, institutions of higher learning must have an active student-operated veterans club or association; veteran-specific career services or advising; on-campus veteran's coordinator; and, award credit based on prior military training and experience.
OCC participates in six veterans educational benefits plans with most college programs approved by the Veterans Administration for enrollment. To learn more about veteran services at OCC, visit oaklandcc.edu/finaid/va-benefits.
About the Michigan Veterans Affairs Agency
MVAA serves as the central coordinating point for Michigan veterans, connecting those who have served in the U.S. Armed Forces, and their families, to services and benefits throughout the state. Learn more at MichiganVeterans.com or call 800-MICH-VET (800.642.4838).
About OCC
With multi campus system in Oakland County, OCC is Michigan's No. 1 transfer institution, offering nearly 100 degrees and certificates. The College empowers academic and developmental experiences, allowing students to reach their potential and enhance their communities. More than 1 million students have enrolled in the college since it opened in 1965. A seven-person Board of Trustees governs OCC. Board members are elected on a non-partisan, at-large basis, serve as volunteers and are not paid. Mission statement: OCC is committed to empowering our students to succeed and advancing our community. Learn more at oaklandcc.edu.
###
Media Contact: Marketing & Community Relations | 248.341.2020 | contactus@oaklandcc.edu