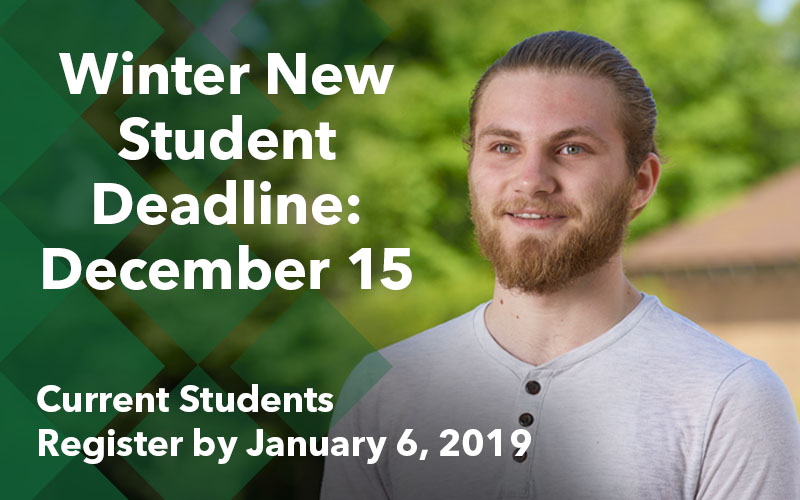 OAKLAND COUNTY, Michigan – Change jobs. Start a new career. Make more money. Be my best self.
Oakland Community College offers nearly 100 degree and certificate programs as well as continuing education and advanced training to get you started. New students must apply by December 15.
Did you know, for the equivalent of as little as $25 week, students can earn 3 credits toward accredited degree, transfer and certificate programs at OCC? OCC maintains a low tuition rate for high-quality education –- up to 25- to 50-percent lower cost to similar public or private higher education institutions.
Winter semester at OCC starts Monday, January 7.
Registration for the start of OCC winter classes closes January 6.
Many students choose OCC as their college starting point and save thousands of dollars at other schools by transferring course credits. Others choose OCC to increase their skills and career potential or renew a personal commitment and desire to learn from excellent instructors in the classroom and learning labs. Most choose based on value, availability of classes to balance work and school, and close proximity to home or work with multi campus system – Auburn Hills, Farmington Hills, Royal Oak, Southfield and Waterford.
For high school students looking to get a jump-start on college, OCC has a number of options to earn early college credits and save money. Opportunities vary by individual student and high school district and range from dual enrollment to early college. Options include Oakland Technical Early College,Oakland Early College, Oakland ACE (Accelerated College Experience with Oakland Schools), and High School Dual Enrollment.
Potential students may review up-to-date course offerings, register for classes and access the OCC schedule of classes for winter 2019 semester's academic calendar for more information. Visit OCC's website at www.oaklandcc.edu to get started, or contact OCC at 248.341.2200 or ces@oaklandcc.edu.
About OCC
With multi campus system in Oakland County, OCC is Michigan's No. 1 transfer institution, offering nearly 100 degrees and certificates. The College empowers academic and developmental experiences, allowing students to reach their potential and enhance their communities. More than 1 million students have enrolled in the college since it opened in 1965. A seven-person Board of Trustees governs OCC. Board members are elected on a non-partisan, at-large basis, serve as volunteers and are not paid. Mission statement: OCC is committed to empowering our students to succeed and advancing our community. Learn more at oaklandcc.edu.
###
Media Contact: Marketing & Community Relations | 248.341.2020 | contactus@oaklandcc.edu