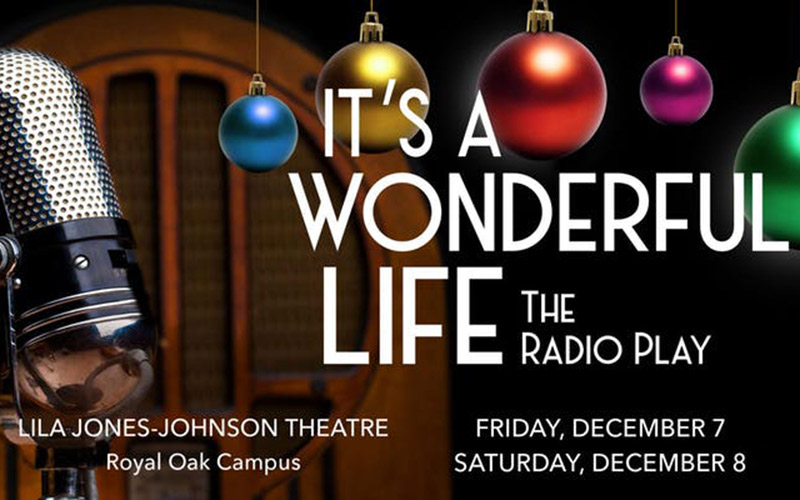 OAKLAND COUNTY, Michigan — It's a wonderful movie. It's a wonderful radio play. And it's certainly a wonderful way to spend time at the start of the holiday season.
Hoping to start a new tradition with a long-established tradition, the theater program at Oakland Community College will stage "It's a Wonderful Life: The Radio Play," a shortened version of the 1946 Frank Capra film that has become as much a part of the holiday season as Christmas trees and caroling and gift receipts.
Performances are scheduled for 7 p.m. Friday, Dec. 7, and 2 p.m. Saturday, Dec. 8, at the Lila Jones-Johnson Theatre, 739 S. Washington Ave. on OCC's Royal Oak campus.
Giving life to this radio adaptation of Bedford Falls is a cast of faculty and staff from Orchard Ridge, Royal Oak, Auburn Hills and other OCC campuses. Performers include Carol Chen, a music adjunct faculty member; Kathryn Stewart-Hoffmann, a French faculty member, Gina Mandas, a Spanish faculty member; Elizabeth Zobl-Tar, an English adjunct faculty member; William McLin, a tutor at the academic Support Center; and Steven Kosinski, a theater adjunct faculty member.
Tickets are $5 for OCC students, faculty and staff and $10 for non-students, or bring five cans of food to the performance and get in for free. All food donated will be set on stage for the performances and then distributed to food banks after the Saturday show.
And after each show — once everyone has stopped with the happy tears even though they've seen the movie at least a dozen times and know how it ends — the audience should be in the mood to take part in a small holiday sing-along.
Tickets can be purchased on Eventbrite at occevents.evenbrite.com, purchased at the theater the day of the performance — or just show up with five cans of food.
About OCC
With multi campus system in Oakland County, OCC is Michigan's No. 1 transfer institution, offering nearly 100 degrees and certificates. The College empowers academic and developmental experiences, allowing students to reach their potential and enhance their communities. More than 1 million students have enrolled in the college since it opened in 1965. A seven-person Board of Trustees governs OCC. Board members are elected on a non-partisan, at-large basis, serve as volunteers and are not paid. Mission statement: OCC is committed to empowering our students to succeed and advancing our community. Learn more at oaklandcc.edu.
###
Media Contact: Marketing & Community Relations | 248.341.2020 | contactus@oaklandcc.edu