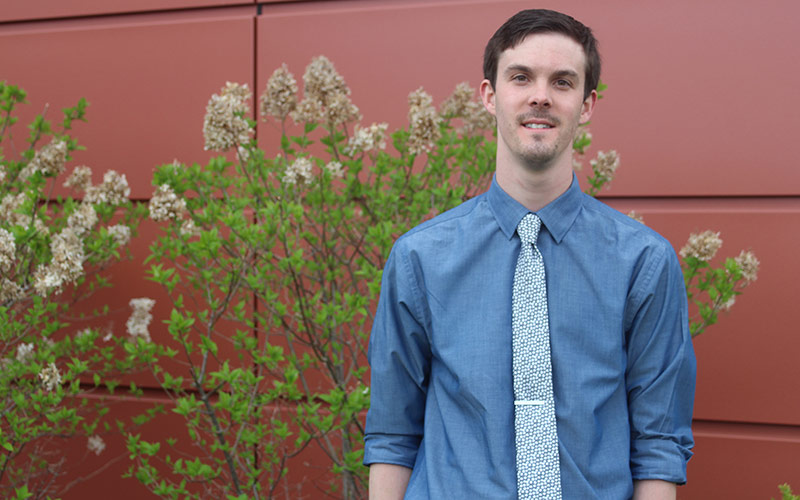 OAKLAND COUNTY, Michigan – OCC alumnus Andrew Baker took Best of Show at the Fresh Coast Homebrew Competition in Traverse City this past month with a concoction whose very name is a mouthful.
His submission—Sonnenseite Berliner Weisse with Raspberry, a modern twist on a style of beer that originated in Berlin—bubbled above the competition.
"I was very fortunate," said Baker, who earned his associate's degree in restaurant/hotel management 2016. "This was my first time ever sending off my beer for a competition, so to have won Best of Show was mind-blowing."
As a result of his victory, He will have the opportunity to not only team up with Right Brain Brewery in Traverse City to produce his brew but also further his career by learning the ins and outs of beer production on a bigger scale.
"Andrew is incredibly bright and has always been ferociously curious about learning so we at the OCC Culinary Studies Institute aren't surprised that his keen ability is being acknowledged in the industry," said Julie Selonke, program coordinator for the Culinary Studies Institute.
"We are so pleased to share in his success and even more pleased that professional brewers are recognizing him for his talent."
Baker stumbled upon his love of food and beverage while working at a Jet's Pizza when he was 19 and decided to pursue his passion by enrolling in the culinary program at Oakland Community College.
"OCC offered the most welcoming and incredible environment for a person looking to find themselves and find what they want to do," said Baker. "I've been able to involve myself as a student instructor and volunteer just helping out.
"OCC continues to play an integral role in my life and career. I've really been fortunate to share my experiences and see my influence on students that came after me."
Baker can still be seen on the Orchard Ridge campus teaching the beer brewing class and helping out wherever he can. The advice he gives to students: Never count out the impact a person can have on your life, and always follow your dreams.
"No matter how frustrating it may seem, keep pursing your passion," he said. "You'll have your great days and bad days, but don't stop pursing your dreams."
What's next for Baker?
The culinary grad is currently studying nutrition and food science at Wayne State University and hopes to own his own brewery one day.
About OCC
With multi campus system in Oakland County, OCC is Michigan's No. 1 transfer institution, offering nearly 100 degrees and certificates. The College empowers academic and developmental experiences, allowing students to reach their potential and enhance their communities. More than 1 million students have enrolled in the college since it opened in 1965. A seven-person Board of Trustees governs OCC. Board members are elected on a non-partisan, at-large basis, serve as volunteers and are not paid. Mission statement: OCC is committed to empowering our students to succeed and advancing our community. Learn more at oaklandcc.edu.
###
Media Contact: Marketing & Communications | 248.341.2020 | contactus@oaklandcc.edu