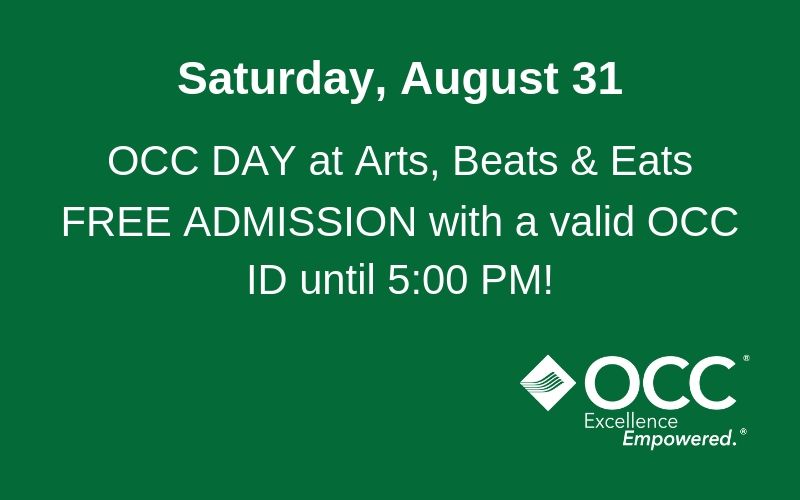 OAKLAND COUNTY, Michigan-- OCC students and employees with a valid OCC Student ID will be given free admission to Arts Beats & Eats on Saturday, August 31 from 11 a.m. to 5 p.m. Free parking for students and employees is also available in OCC's north parking structure on the Royal Oak Campus during OCC Day on a first-come, first-served basis.
OCC Day events include special Arts, Beats & Eats performances by OCC faculty and students at the OCC Acoustic Stage (corner of Lincoln and Center Street) on Saturday
- MUSIC PERFORMANCES: 2:30 p.m. – 3:30 p.m.
OCC's Music Department presents a music student showcase featuring past and present students.
-THEATRE PERFORMANCES: 3:45 p.m. – 4:45 p.m.
The OCC Theatre Program will present a few scenes from its upcoming season, as well as a fight choreography demonstration from alumnus Phil DeVone.
-CULINARY PERFORMANCES: 5:00 p.m. – 6:30 p.m.
OCC "Chop" competition featuring OCC students competing to create the best dishes for the judges and the audience.
More OCC live events all weekend
In addition to music, theatre and culinary performances, OCC will host a weekend-long, daily demonstration tent highlighting the college's arts programs in front of the Royal Oak campus on Lincoln.
For those looking for a hands-on experience, OCC will also host a special "Touch a Truck" area on Center Street, off of Fourth Street, featuring an emergency vehicle driving simulator, OCC's new fire truck and other emergency vehicles used for emergency and first responder training.
For more information about Arts, Beats & Eats, visit artsbeats.com.
About OCC
With multi campus system in Oakland County, OCC is Michigan's No. 1 transfer institution, offering nearly 100 degrees and certificates. The College empowers academic and developmental experiences, allowing students to reach their potential and enhance their communities. More than 1 million students have enrolled in the college since it opened in 1965. A seven-person Board of Trustees governs OCC. Board members are elected on a non-partisan, at-large basis, serve as volunteers and are not paid. Learn more at oaklandcc.edu.
###
Media Contact: Marketing & Communications | 248.341.2020 | contactus@oaklandcc.edu