OAKLAND COUNTY, Michigan — Oakland Community College celebrated its more than 1,500 graduates on Saturday, May 18, at two commencement ceremonies at the O'rena on the campus of Oakland University. Faculty, staff, board members and families celebrated the nearly 2,000 degrees and certificates awarded at the 53rd annual commencement for the college.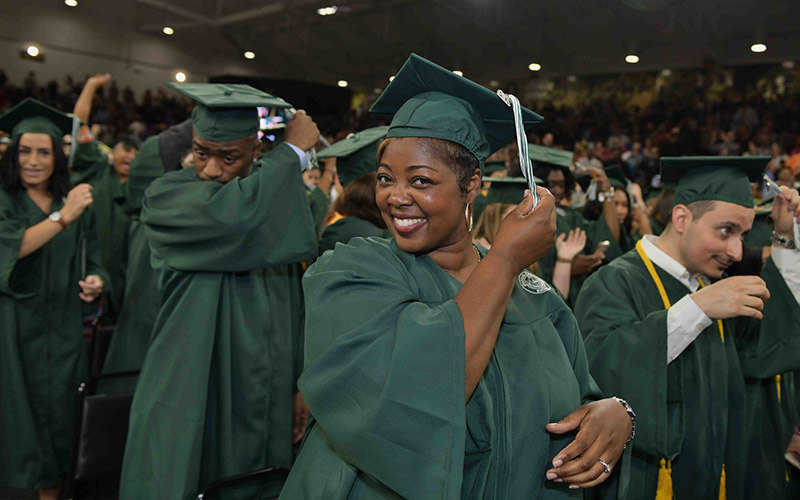 In his opening remarks to graduates and their families, board members, faculty and staff, OCC Chancellor Peter Provenzano celebrated the achievements of the class as a group by highlighting individual student stories that personalized the perseverance and leadership of the class of 2019 at large.
"Many of our students have overcome incredible odds to obtain their degree or certificate," Provenzano said. "And I know that each of you have a unique story about how you found your passion and your pathway to phenomenal careers and educational achievement."
In his keynote speech, Salvador Salort-Pons, director, president and CEO of the Detroit Institute of Arts, conveyed how the artistic world can inform the scholastic world. "If I have learned one thing in my career," Salort-Pons said, "it is that artists inspire us to think differently, to look at things with a fresh perspective. They challenge conventional wisdom and go against the grain to make a difference in their communities."
Salort-Pons then presented examples of four artists who have done just that:
Pablo Picasso: "From Picasso, we can learn about the art of reinvention. … Whether you are a cybersecurity specialist, a nurse or a painter like Picasso, strive in your field to be creative and to reinvent yourself."

Elizabeth Catlett, a sculptor, teacher and advocate for women: "Like Catlett, each of us can be an advocate for social change. In whatever you pursue, remember you can play a role in ensuring accessibility, equity and social justice.
Vincent van Gogh: "From van Gogh, you can learn about the art of working hard in the face of failure and adversity and how to be relentless in making your vision a reality."
Diego Rivera: "He reminds us to use our talent and skills for the greater good, for social change. Through your time at OCC, you have gained skills and knowledge you can use to make your community a better place."
And making that better place started soon after in a steady stream of success, as each graduate walked upon the stage to receive his or her diploma. Signifying and ending. And a beginning.
To watch videos of both the morning and afternoon ceremonies, visit the OCC YouTube channel. To view photos of this year's commencement, visit the OCC Flickr page.
About OCC
With multi campus system in Oakland County, OCC is Michigan's No. 1 transfer institution, offering nearly 100 degrees and certificates. The College empowers academic and developmental experiences, allowing students to reach their potential and enhance their communities. More than 1 million students have enrolled in the college since it opened in 1965. A seven-person Board of Trustees governs OCC. Board members are elected on a non-partisan, at-large basis, serve as volunteers and are not paid. Mission statement: OCC is committed to empowering our students to succeed and advancing our community. Learn more at oaklandcc.edu.
###
Media Contact: Marketing & Communications | 248.341.2020 | contactus@oaklandcc.edu