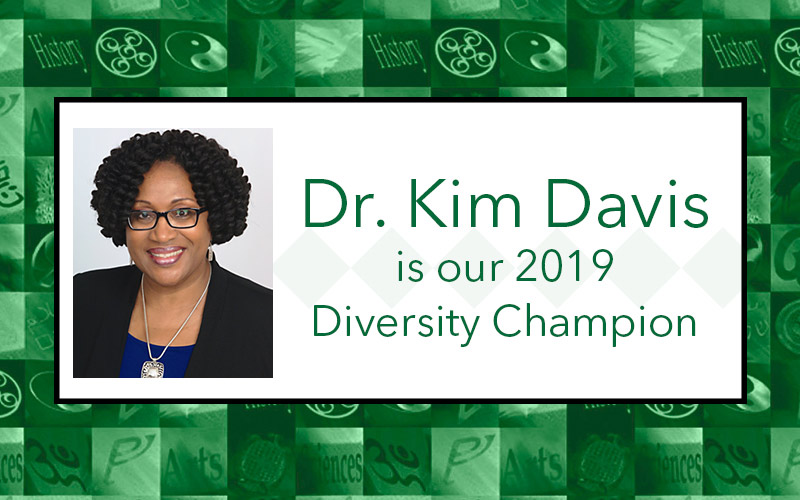 OAKLAND COUNTY, Michigan — Objective. Respectful. Judicious. Gracious. These attributes are used to describe Dr. Kim Davis, Oakland Community College's 2019 Diversity Champion.
The college's Committee for Diversity and Inclusion awarded Davis, associate dean for communications arts and humanities, with this honor for her invaluable contributions ensuring all people feel included and empowered.
"Kim understands the value of change and embraces it, helping others to envision the benefits of change, openness and acceptance," said Cindy Carbone, dean for communications arts and humanities in nominating Davis for the award.
"As an educator at heart, she is empathetic to her students, teaching them how to be better thinkers, writers, and readers – as well as teaching responsibility, instilling self-worth and motivating students to succeed. She takes that approach with faculty and staff as well, trying to instill a broader understanding of how our differences can lead to success."
Davis joined OCC in 2013 as a faculty member and transitioned to administrative duties in 2018. She has been an integral part of the college's Placement Committee, which adapted a new incoming student placement tool. She also serves on the Curriculum Committee, is a member of OCC's Title IX team and active participant in Behavioral Assessment Resource Teams (BART). In her deep commitment to student success and learning, she continues to teach Academic Literacy courses, when possible, and actively mentors academic literacy coordinators collegewide.
The Birmingham Race Relations and Diversity Task Force will honor Davis on May 2, 2019, at the Birmingham Community House. There she will be honored for exemplifying excellence at OCC, empowering everyone she meets to do their best, and embodying respect and inclusion in all her endeavors.
About OCC
With multi campus system in Oakland County, OCC is Michigan's No. 1 transfer institution, offering nearly 100 degrees and certificates. The College empowers academic and developmental experiences, allowing students to reach their potential and enhance their communities. More than 1 million students have enrolled in the college since it opened in 1965. A seven-person Board of Trustees governs OCC. Board members are elected on a non-partisan, at-large basis, serve as volunteers and are not paid. Mission statement: OCC is committed to empowering our students to succeed and advancing our community. Learn more at oaklandcc.edu.
###
Media Contact: Marketing & Communications | 248.341.2020 | contactus@oaklandcc.edu