OAKLAND COUNTY, Michigan — Kristine Borrayo and Jessica Lizardi have invested hundreds of hours at Oakland Community College helping students with autism and autism spectrum disorder succeed in the classroom—and also at home, as mothers of children with learning challenges. Starting next school year, that investment will take the form of actual money as a scholarship from the Oakland Community College Foundation.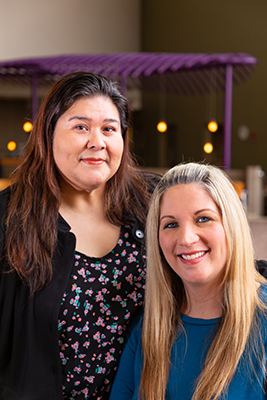 The $500 "Empowered to Rise Above" scholarship will be awarded on a semester basis beginning this fall. The deadline for applying is Aug. 30. Students can apply using the online scholarship system.
Applicants must:
Be currently enrolled at OCC for at least three credits.
Have been diagnosed with autism spectrum disorder or another learning disability. Proof of diagnosis or designation may be required.
Write a thank you letter to the donors.
Preference will be given to applicants who demonstrate financial need.
Kristine Borrayo has worked at OCC since 2001 and since 2011 in the Career Services department, where she has helped students with autism and autism spectrum disorder as well as those who struggle with learning challenges. She also has been an advocate for her own three children, all of whom have some form of learning disability or attention deficit disorder, attention deficit hyperactivity disorder or autism spectrum disorder.
Jessica Lizardi has worked at OCC since 2005. Her most valuable experiences related to autism have been working with students as an adjunct teaching American government and as a coordinator overseeing student organizations. In 2013, when her own son was diagnosed with autism, Lizardi began championing the need for additional support programs for autistic students at OCC.
Borrayo and Lizardi hope the scholarship serves as a sign to autistic students and those with learning disabilities at OCC that people here will always believe in them and see their potential. The pair are also encouraging the community to support. To give to this scholarship visit oaklandcc.edu/foundation/rise-above.
For more information about this or other Oakland Community College Foundation scholarships, contact the foundation at 248-341-2137 or visit the foundation's website.
About OCC
With multi campus system in Oakland County, OCC is Michigan's No. 1 transfer institution, offering nearly 100 degrees and certificates. The College empowers academic and developmental experiences, allowing students to reach their potential and enhance their communities. More than 1 million students have enrolled in the college since it opened in 1965. A seven-person Board of Trustees governs OCC. Board members are elected on a non-partisan, at-large basis, serve as volunteers and are not paid. Mission statement: OCC is committed to empowering our students to succeed and advancing our community. Learn more at oaklandcc.edu.
###
Media Contact: OCC Marketing & Communications | (248) 341-2020 | contactus@oaklandcc.edu