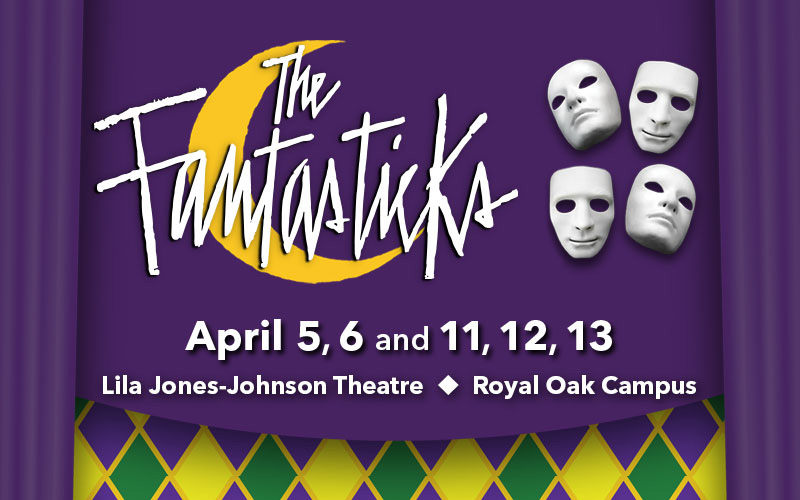 OAKLAND COUNTY, Michigan — The Oakland Community College theater program, under the direction of Dennis North, is ready to raise the curtain on its 2019 winter production of "The Fantasticks," with five performances scheduled for next month.
"The Fantasticks," narrated by the mystical and gallant El Gallo, is a timeless story focusing on two young lovers, their meddling parents and the journey we all must take through the highs of adolescent passions, the agonies of heartbreak and the hurts of betrayal … to discover how to truly love.
And, oh, how audiences have loved "The Fantasticks." If you haven't seen the world's longest-running musical, you may be one of the few people who haven't. It ran for 42 years and more than 17,000 performances on Broadway alone, to say nothing of another encore off-Broadway from 2006 to 2017 and the fact that it has been performed in 67 countries and that an estimated 250 productions of "The Fantasticks" still are presented every year.
The performances at OCC are scheduled for 8 p.m. Friday, April 5; 2 p.m. Saturday, April 6; 8 p.m. Thursday and Friday, April 11 and 12; and 2 p.m. Saturday, April 13.
All shows will be at the Lila Jones-Johnson Theatre on OCC's Royal Oak campus.
Tickets are $15 general admission, $5 for students and $12 for people age 65 and older. For tickets or more information, visit the show's Eventbrite page.
About OCC
With multi campus system in Oakland County, OCC is Michigan's No. 1 transfer institution, offering nearly 100 degrees and certificates. The College empowers academic and developmental experiences, allowing students to reach their potential and enhance their communities. More than 1 million students have enrolled in the college since it opened in 1965. A seven-person Board of Trustees governs OCC. Board members are elected on a non-partisan, at-large basis, serve as volunteers and are not paid. Mission statement: OCC is committed to empowering our students to succeed and advancing our community. Learn more at oaklandcc.edu.
###
Media Contact: Marketing & Communications | 248.341.2020 | contactus@oaklandcc.edu