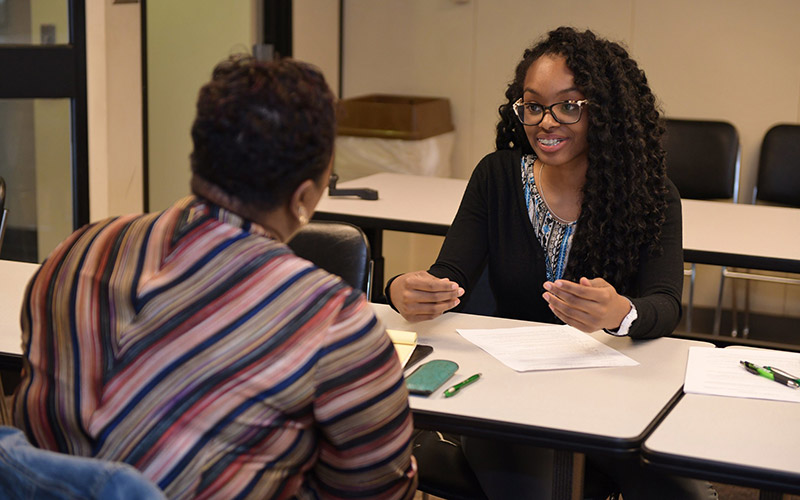 OAKLAND COUNTY, Michigan — Oakland Community College graduate G'Anglea Roquemore inspires others through her words and actions.
"Be your best self" is how she lives and encourages others to live.
To prove it, she attended Career Empowerment Day at OCC on April 2 to empower herself and enhance her professional opportunities.
Currently, she is working at Ferndale Upper Elementary School as a program coordinator for Playworks Americorps. Playworks' mission is to inspire children in low-income communities to become their best selves while fostering learning opportunities in their school environments.
Roquemore found her passion working in OCC's Southfield counseling office.
"I discovered my passion is serving my community and helping students," she said. "OCC is a close-knit community. Being on campus every day, I looked up to Dean Jahquan Hawkins and OCC Counselor John Sloan, and saw the projects they were involved in with student life, and it really inspired me."
After graduation, she pursued a job that allowed her to begin her own projects servicing her community.
"I love what I do. I get to serve my community from the inside and I get to watch students grow outside of school," Roquemore said. "My advice to everyone is to believe in you. And, always, strive to be your best self."
For more information on OCC's programs and opportunities, visit oaklandcc.edu to contact the counseling offices local on all five campuses.
About OCC
With multi campus system in Oakland County, OCC is Michigan's No. 1 transfer institution, offering nearly 100 degrees and certificates. The College empowers academic and developmental experiences, allowing students to reach their potential and enhance their communities. More than 1 million students have enrolled in the college since it opened in 1965. A seven-person Board of Trustees governs OCC. Board members are elected on a non-partisan, at-large basis, serve as volunteers and are not paid. Mission statement: OCC is committed to empowering our students to succeed and advancing our community. Learn more at oaklandcc.edu.
###
Media Contact: OCC Marketing & Community Relations | 248.341.2020 | contactus@oaklandcc.edu