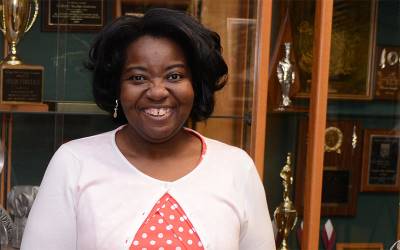 For Candy Geeter, the mission of Oakland Literacy Council is personal.
Growing up, her parents stressed the importance of education, which resulted in her passion to learn. She had witnessed how her father struggled with reading and the difficulty it presented in his everyday life.
"I didn't understand how an adult could go through life and not know how to read," said Geeter, a 20-year veteran of Oakland Community College. "My father was so smart, especially when it came to numbers. Unfortunately, like so many others, he hid the fact that he struggled with reading."
Perhaps this was why her parents encouraged her and her 17 siblings to further their education. They certainly would be so proud of her recent accomplishment being named to Oakland Literacy Council's 35 Faces of Literacy, celebrating the agency's 35th anniversary.
Geeter began her education at OCC as a recipient of the OCC Pontiac Scholarship – a unique program funded by the college to foster diverse high school students from the urban core of Pontiac. She eventually earned two bachelor degrees and a master's degree in education while working full-time. Now OCC Foundation associate director, she works to empower others.
Geeter has spent the majority of her career at the college where she learned about Oakland Literacy Council. At the time, she worked in the office of Chancellor Richard Thompson. "He was very passionate about Oakland Literacy, and it rubbed off on me," she said.
"I love to read. I love to write. I cannot imagine someone not having that same opportunity. That's why I believe in the mission of Oakland Literacy Council."
When the opportunity came to join the Council's board of directors in September 2016, Geeter was delighted. She served on the board until early 2019. As a board member, Geeter served as a liaison between the Council and Oakland Community College, where many Literacy Council students go to further their education after receiving tutoring. She continues to use her creativity behind the scenes supporting Oakland Literacy Council's projects.
"To see tutors and students working together is to see hope," Geeter said. "There are so many people who take time out of their schedules to help someone else have the same opportunities they did is inspiring."
About OCC
With multi campus system in Oakland County, OCC is Michigan's No. 1 transfer institution, offering nearly 100 degrees and certificates. The College empowers academic and developmental experiences, allowing students to reach their potential and enhance their communities. More than 1 million students have enrolled in the college since it opened in 1965. A seven-person Board of Trustees governs OCC. Board members are elected on a non-partisan, at-large basis, serve as volunteers and are not paid. Mission statement: OCC is committed to empowering our students to succeed and advancing our community. Learn more at oaklandcc.edu.
###
Media Contact: OCC Marketing & Community Relations | 248.341.2020 | contactus@oaklandcc.edu