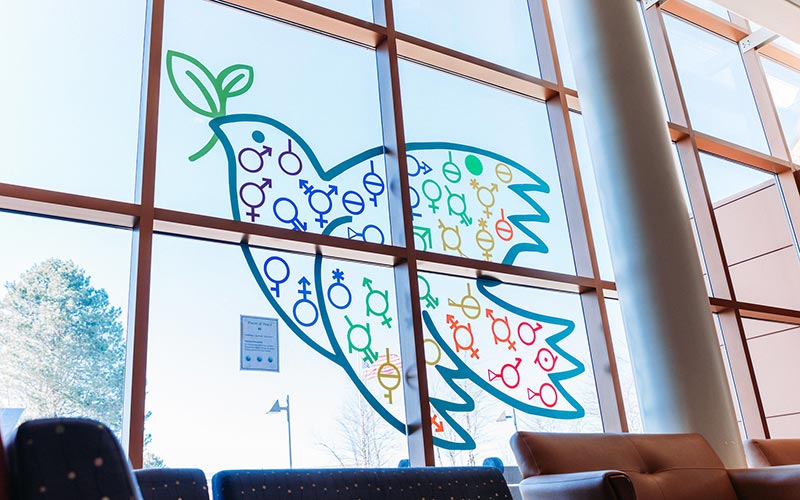 OAKLAND COUNTY, Michigan — What does peace look like from the eyes of an artist?
This question was an impetus for a current exhibit at Oakland Community College's Auburn Hills campus.
"Pieces of Peace" is the brainchild of Pam Micallef, OCC counselor and co-chair of the Auburn Hills Diversity and Inclusion committee.
"Through art, we have a powerful opportunity to highlight messages of diversity and understanding, challenge what we think we know, and help resolve conflict around us," Micallef said.
The inaugural event, running through April 30, is based on the concept that peace comes from diverse foundations contributing to one overall message that peace can be achieved and wholly inclusive.
The format is akin to the Grand Rapids' ArtPrize. Art is submitted by individuals and groups and exhibited throughout the Auburn Hills campus. Each entry competes for a Judges Award as well as a highly coveted Popular Vote Award as earned by public votes.
Maps to locate the "pieces" are available in the Auburn Hills counseling department. Awards will be announced in May.
"Pieces of Peace" artists include:
Inika Vaults and the student Intervarsity Club
Craig Drozd, OCC student
Auburn Hills Library faculty and staff
MAT 2540 Class
Auburn Hills Counseling and Global Literacy Departments with guest artists
Michelle Fether-Samtouni, OCC sociology faculty
The Auburn Hills Diversity and Inclusion Committee is co-chaired by Beth Garlock and Micallef. Members include Jillian Gross-Fortgang, Stacey Jackson, Michelle Samtouni, Tameka McClellan, Sandra Strong, Cheryl Decker and Kathy House.
About OCC
With multi campus system in Oakland County, OCC is Michigan's No. 1 transfer institution, offering nearly 100 degrees and certificates. The College empowers academic and developmental experiences, allowing students to reach their potential and enhance their communities. More than 1 million students have enrolled in the college since it opened in 1965. A seven-person Board of Trustees governs OCC. Board members are elected on a non-partisan, at-large basis, serve as volunteers and are not paid. Mission statement: OCC is committed to empowering our students to succeed and advancing our community. Learn more at oaklandcc.edu.
###
Media Contact: OCC Marketing & Community Relations | 248.341.2020 | contactus@oaklandcc.edu