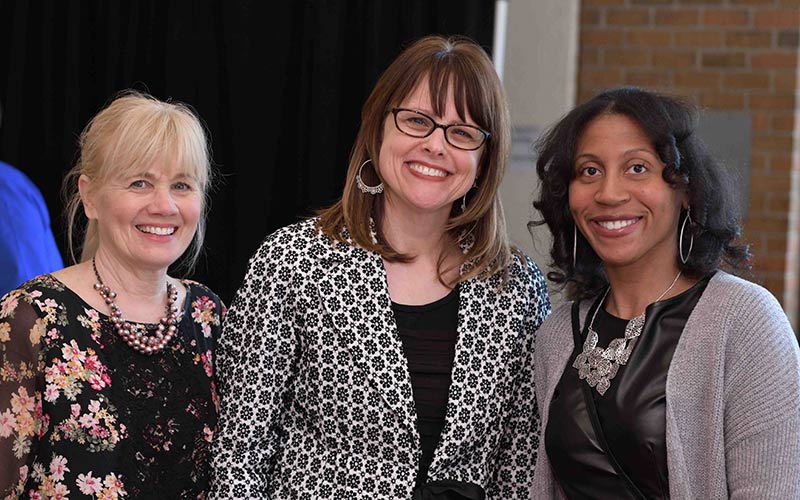 OAKLAND COUNTY, Michigan — Joel Cohen received a standing ovation from his colleagues when he said, "there's nowhere like OCC for academic freedom and teaching."
Cohen, a 50-year veteran of Oakland Community College, was among nearly 100 employees and recent retirees recognized at an anniversary and retirement lunch hosted at the college's Culinary Studies Institute on the Orchard Ridge campus. They feasted on culinary delights prepared by students, participated in a rousing game of trivia and were recognized by Chancellor Peter Provenzano for their deep commitment and dedication to the college.
"It is so important to stop and thank the people who make a difference in our lives," he said. "This incredible group of current and retired employees represent literally hundreds of years of service to our students and our community."
"It is this type of dedication helps makes OCC the college of choice, the partner of choice and the employer of choice in the community."
Cohen agreed. "I would never have had the academic freedom to truly teach my students as I have during my tenure here at OCC had I chose to teach at one of the large universities," Cohen said. "What a great experience this has been for me as an educator."
Karen Bathanti, OCC vice chancellor of human resources, who spearheaded the event planning said, "Our employees change the lives of our students, inspire one another and consistently advance our community with the resources entrusted to us. Their dedication, passion and commitment is inspiring. We are so fortunate these individuals have made OCC their employer of choice."
A list of honorees follows.
50 years
40 Years
Richard Driscoll
Russ Karman
35 Years
Patrick Dean
Tahir Khan
Carlos Olivarez
David Webb Jr.
30 Years
Stephanie Holman
25 Years
Rita Hayes
Mike Khirallah
Youmin Lee
Mary Jo Lord
Michele Merritt
Godson Nasari
Jeff Parent
Nicole Pitts
Eleanor Wilkinson
20 Years
Edward Bowie
Patrick Buck
Mary Eichold
Wilma Porter
Gary Vickers
Darryl Wood
Sue Work
15 Years
Antoine Bright
David Ceci
Sherri Colon
Shawn Dry
Bryan Dubin
Regina Dunham
Dawn Edford
Crystal Fiss
Lina Gerchak
Mercedita Gooding
Donna Heath
Carol Johnson
Darlene Johnson-Bignotti
Jeannie Kincaide
William Konkolesky
Richard Lee
Lori Linden
Charles Martin
David McRoberts
Robert Montgomery
Michelle Pergeau
Jearlene Phelps
Anthony Ragland
Pamela Ryals
Michael Schmidt
Janet Whitfield
Robert Wilson
10 Years
Kathryn Allen
Kenneth Aud
Nestor Baron-Lopez
Kim Combs
Thomas Dennis
Jessica Dietz
Valerie Emanoil
Kenneth Faulk
Krystal Ford
Cherie Foster
Christina Genei
Chantell Hickman
Jessica Lizardi
Robert Long
Gina Mandas
Tameka McClellan
John Mousty
Cheryl Neely
Chad Nykamp
Rosalind Reaves
Krishna Stilianos
Kelly Taylor
Kathy Tiell
Rasheedah Wright
2018 Retirees
Susan Baier
Michael Barber
Kim Boose
William Bratton
Gary Casey
Kathleen Cham
Alice Degrandchamp
Deborah Fiott
Joy Frost
James Hallemann
Kimberly Hugelier
Lee January
Sheri Kleopfer
Charles Kurzer
Vera Lewis
Jayne Lobert
Terry McCauley
Brian Mullkoff
Caroline O'Neill-Nacy
Michelle Rose
Catherine Soldan
Nancy Szabo
Sue Work
Marcia Worthy
About OCC
With multi campus system in Oakland County, OCC is Michigan's No. 1 transfer institution, offering nearly 100 degrees and certificates. The College empowers academic and developmental experiences, allowing students to reach their potential and enhance their communities. More than 1 million students have enrolled in the college since it opened in 1965. A seven-person Board of Trustees governs OCC. Board members are elected on a non-partisan, at-large basis, serve as volunteers and are not paid. Mission statement: OCC is committed to empowering our students to succeed and advancing our community. Learn more at oaklandcc.edu.
###
Media Contact: Marketing & Communications | 248.341.2020 | contactus@oaklandcc.edu