OCC K-9 trainer and Stephen 'STRONG' bond over love of dogs and police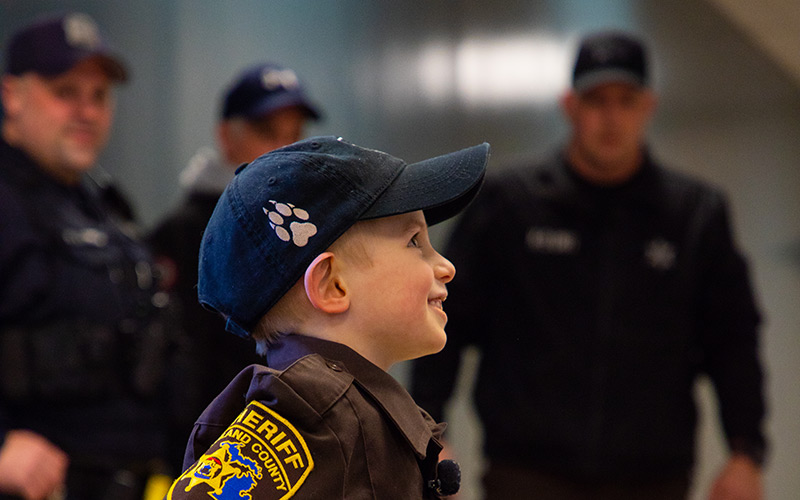 OAKLAND COUNTY, Michigan -- Stephen Hohauser immediately locked hands with his best friend, OCC K-9 trainer and Oakland County Sheriff's Deputy Bob Loken.
As strong as a K-9 bite grip.
Wherever Loken walked to greet fellow police officers before the K-9 graduation ceremony on Oakland Community College's Auburn Hills Campus Nov. 29, Hohauser was smiling wide right by his side, form fitted in an adorable, custom-made, authentic police uniform and cap.
Hohauser, 6, has stage IV neuroblastoma, a pediatric cancer that affects nerve cells. He and his mother, Mariana Hohauser, live in Rochester Hills, where he is a big fan of firetrucks, police officers and, especially, police dogs.
Mariana Hohauser said her son's battle started when he was 4 years old.
"He had a bump on his head from a shampoo bottle that kept growing," she said. "We kept checking it because it kept getting bigger. He spiked a fever and had swollen lymph nodes on the side of his neck. I rushed him to the hospital that night. The ER doctors did a CT scan of his head and a chest X-ray revealed a tumor on his left side of his chest and a tumor in his head. They told me he had neuroblastoma, a death sentence for kids."
Stephen Hohauser, who suffered from asthma as an infant, is affectionately called Stephen "STRONG" because of his ability to tolerate extremely painful medical treatments. For the past two and a half years, he has endured six rounds of chemotherapy, two bone marrow transplants, 21 treatments of proton (radiation) and six rounds of immuno-therapy. He also received what his mom says to be live saving blood and platelet transfusions, daily at one point in time but needed transfusions on a weekly basis for several months. Without the help and selfless act of the wonderful people who donate blood and platelets, Stephen would not be here. He's still receiving immuno-therapy and has to be scanned every three months to make sure he is still on the road to recovery, according to his mom.
"He's a fighter," she said. "He doesn't know life any different. He's a product of his environment. He's happy-go-lucky. Everything he takes with a smile. He makes this journey more bearable. He's my inspiration and my hero. We are cautiously optimistic it will go away and he will be cured."
Loken first met his shadow in February 2017 at Children's Hospital in Troy, where his wife, Meagen, works as a nurse.
"Bob and Stephen hit it off instantly," Mariana Hohauser said. "It was surreal in a way. Two kindred spirits meet each other in person and have been inseparable since. Bob comes over to the house. They play cops and robbers. Bob chases him in his firetruck. They play Nerf wars. Bob is always there for him. He checks in all of the time. It's pretty emotional thinking about what the two have together. I love Bob and all of the first responders. They have been and are my support system, my strength and help me get through all of the rough times especially when we were in the hospital."
While Stephen Hohauser was spending 31 days at Children's Hospital in Detroit in April 2017, Loken made sure first responders sent him pictures and cards throughout his visit. He even organized a rally for the Hohausers second bone marrow transplant visit in May, to be escorted by police K9 officers. "When we first got to the hospital, the courtyard was filled with about 15 K-9s and their handlers to greet Stephen," she said. "He was in heaven."
Loken could not hold back tears during the OCC K-9 graduation ceremony when talking about his relationship with his best friend.
"It was a heartbreaking moment meeting Stephen for the first time in downtown Rochester," Loken said. "I saw this boy absolutely full of life. He's what life is all about. He's full of excitement and energy. You can't help but feel for him and his whole family. He's amazing."
The pair bonded over their love of police dogs.
"To see a child sick who is interested in police dogs and facing a possible terminal illness makes me want to do so much more for him," Loken said. "I want him to enjoy every day through the good and bad. If canines give him joy, we want to do our part. I turn into a little kid every time I'm around him. We enjoy the simple things in life, like playing, living in the moment and enjoying that moment."
Mariana Hohauser said she is blessed to be Stephen's mom.
"Stephen has a positive inner energy and innocence that is so beautiful," she said. "He is an amazing little boy. He has been able to raise awareness worldwide about neuroblastoma. First responders, K-9 units, firefighters from all over the world have a common bond with Stephen through Facebook. He has brought them together."
Just last August, Port Huron Police Department police officers, first responders and others organized a volleyball game in the mud at Goodells County Park in St. Clair County to raise money to help the Hohauser family. The event attracted 15 teams willing to slither, slip and slide in the muck. The tournament raised about $3,000 from the sale of wrist bands and donations.
All of the attention, plus the roller coaster ride of cancer treatments, can be overwhelming, at times, for Mariana Hohauser. When she feels sad or depressed, she turns to her son for immediate relief.
"When I'm having a rough day, he gives me a smile with those baby blue eyes and tells me 'mommy, I love you,'" she said. "I have families calling me from all over asking me for advice and help. They see my prayers on Facebook. I tell them 'this is your new normal. It's how you run the sprint that matters.'"
Where will Stephen Hohauser go to college?
"He looks forward to attending OCC and the K-9 academy," Mariana Hohauser said. "It's an excellent community college. It would be surreal to watch him graduate from K9 academy. It would mean all of our hopes and dreams coming true. It would be like crossing a finish line and then starting another marathon. No surprise he wants to be a police officer."
By the looks of his uniform, no surprise indeed.
Stephen STRONG: How to Help
About OCC
With multi campus system in Oakland County, OCC is Michigan's No. 1 transfer institution, offering nearly 100 degrees and certificates. The College empowers academic and developmental experiences, allowing students to reach their potential and enhance their communities. More than 1 million students have enrolled in the college since it opened in 1965. A seven-person Board of Trustees governs OCC. Board members are elected on a non-partisan, at-large basis, serve as volunteers and are not paid. Mission statement: OCC is committed to empowering our students to succeed and advancing our community. Learn more at oaklandcc.edu.
###
Media Contact: Marketing & Communications | 248.341.2020 | contactus@oaklandcc.edu