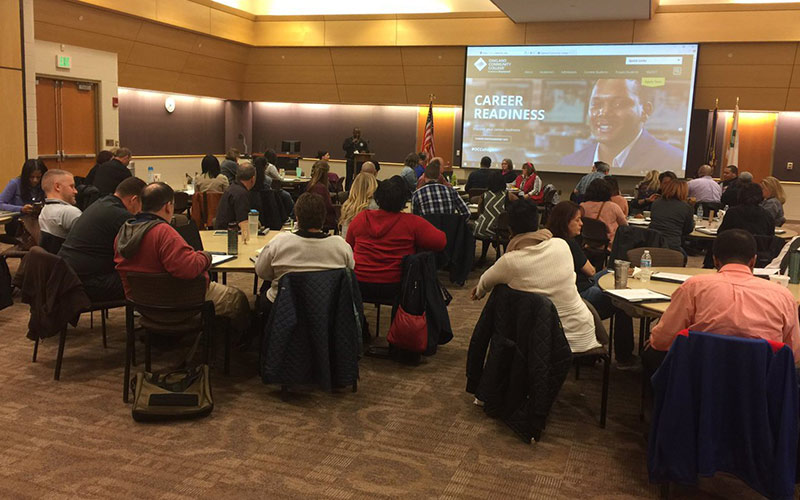 OAKLAND COUNTY, Michigan — Burnout.
Substance abuse.
Divorce.
Suicide.
Stress in law enforcement is real and the driving force behind the first joint Oakland Community College departments of Criminal Justice and Psychology session, "Stress Management for Parole and Probation Agents" on March 29, 2019.
The idea for the session was inspired when Kevin Jones, a training agent for Oakland County's parole and probation officers, contacted Ken Aud, OCC criminal justice department chair and faculty member, about the college hosting a special training session.
Aud was on the case.
He join forces with colleagues Dr. Krishna Stillianos, psychology department chair and faculty member, and Dr. Kathy Theil, psychology faculty member, to develop the unique session.
Due to the nature of the officers' work, the officers wanted a session centered on work-related stress and the inherent crossover over into the family unit.
According to Aud, officers in law enforcement tend to hide their stress, view it as a weakness, or simply fail to recognize the associated symptoms. Unfortunately, if left unchecked there are sometimes grave results.
"Stress in the law enforcement arena can be isolated to a single event or a combination of events over a long period of time," Aud said. "Our goal was to provide these professionals with an overview of how stress effects the mind, body and behaviors, and provide them with some productive ways to reduce stress."
For more information about OCC's criminal justice, law enforcement and psychology programs, visit oaklandcc.edu.
About OCC
With multi campus system in Oakland County, OCC is Michigan's No. 1 transfer institution, offering nearly 100 degrees and certificates. The College empowers academic and developmental experiences, allowing students to reach their potential and enhance their communities. More than 1 million students have enrolled in the college since it opened in 1965. A seven-person Board of Trustees governs OCC. Board members are elected on a non-partisan, at-large basis, serve as volunteers and are not paid. Mission statement: OCC is committed to empowering our students to succeed and advancing our community. Learn more at oaklandcc.edu.
###
Media Contact: Marketing & Communications | 248.341.2020 | contactus@oaklandcc.edu