OAKLAND COUNTY, Michigan — Suba Subbarao finds herself both awed and humbled by the challenges faced by students who have taken her for courses ranging from academic literacy and professional communication to introduction to Shakespeare. The Oakland Community College English professor is grateful to have the opportunity to help them achieve their goals.
That opportunity will be even more significant next school year with the initial presentation of the Suyoga "Good Opportunity" Scholarship by the Oakland Community College Foundation.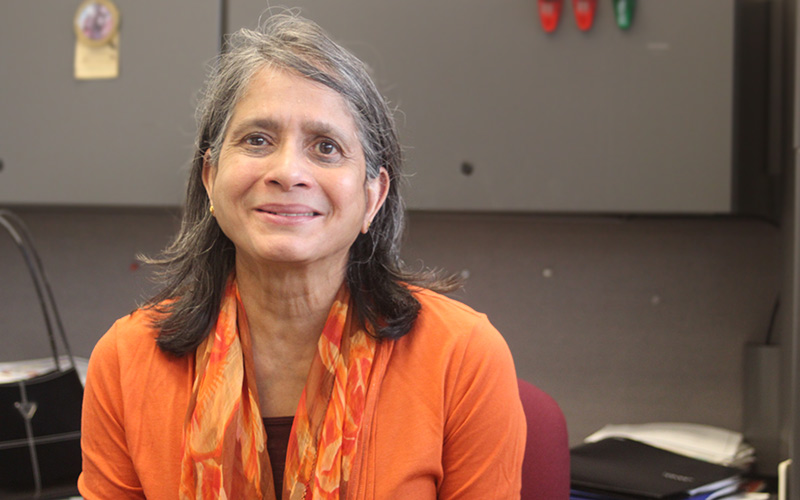 A $500 scholarship will be awarded on a semester basis. Students can apply using the online scholarship system.
Applicants must:
Have completed a minimum of 12 credits at OCC.
Be taking classes at the Auburn Hills campus.
Have a GPA of 2.7 or higher.
Provide a letter of reference from an OCC instructor, an employer or a nonfamily member describing the applicant's commitment to learning.
Write a thank-you letter to the donor.
The "Good Opportunity" Scholarship is merely the latest impact that Subbarao has made on the OCC community. Honors for her work in the classroom include being named the outstanding faculty member on the Auburn Hills campus, the outstanding online educator by the Alliance for Excellence in Online Education, the Michigan Campus Compact's outstanding service learning instructor and, just this past October, the Michigan Developmental Education Consortium's Educator of the Year.
For more information about this or other Oakland Community College Foundation scholarships, contact the foundation at 248-341-2137 or visit the foundation's website.
About OCC
With multi campus system in Oakland County, OCC is Michigan's No. 1 transfer institution, offering nearly 100 degrees and certificates. The College empowers academic and developmental experiences, allowing students to reach their potential and enhance their communities. More than 1 million students have enrolled in the college since it opened in 1965. A seven-person Board of Trustees governs OCC. Board members are elected on a non-partisan, at-large basis, serve as volunteers and are not paid. Mission statement: OCC is committed to empowering our students to succeed and advancing our community. Learn more at oaklandcc.edu.
###
Media Contact: OCC Marketing & Communications | (248) 341-2020 | contactus@oaklandcc.edu