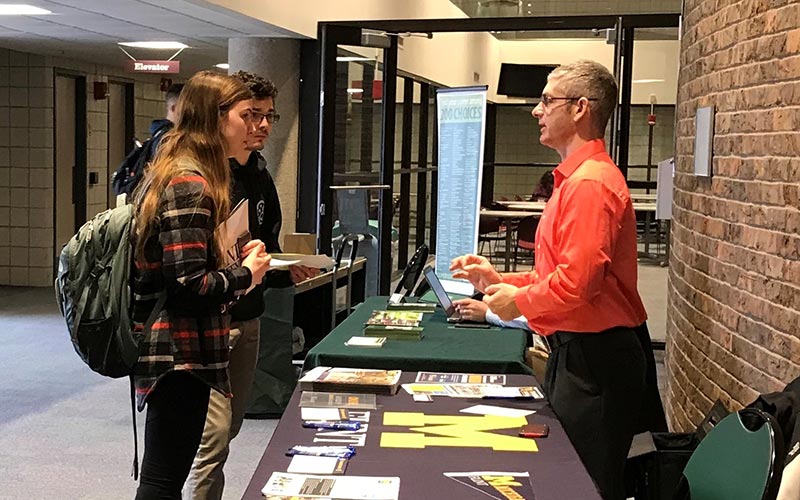 OAKLAND COUNTY, Michigan – As the No. 1 transfer institution in the state of Michigan, Oakland Community College ensures students are transfer-ready. In addition to offering programs that support a strong educational foundation, OCC's Transfer Day is one large-scale event that helps make that transition even easy.
On April 8, 9 and 10, nearly 50 four-year college and university representatives will be on OCC's three largest campuses to answer questions about admissions, scholarships, financial aid and credit transfer. OCC students, prospective students, parents and the community are encouraged to attend.
"Students will have the opportunity to connect and have access to our top transfer partners, without having to drive an hour or more to see if a university is the right fit," says OCC Admissions Director Laurie Huber.
The event will take place:
Monday, April 8, 11 a.m. to 1 p.m., Orchard Ridge Campus
Tuesday, April 9, 11 a.m. to 1 p.m., Royal Oak Campus
Wednesday, April 10, 11 a.m. to 1 p.m., Auburn Hills Campus
The list of guests includes Eastern Michigan University, Grand Valley State University, Kettering University, Oakland University, Rochester College, University of Michigan, Walsh College and Wayne State University.
Visit the College Transfer Day page for more information.
If you are unable to attend OCC's Transfer Day event, schedule an appointment with an OCC counselor for additional admissions and transfer information.
About OCC
With multi campus system in Oakland County, OCC is Michigan's No. 1 transfer institution, offering nearly 100 degrees and certificates. The College empowers academic and developmental experiences, allowing students to reach their potential and enhance their communities. More than 1 million students have enrolled in the college since it opened in 1965. A seven-person Board of Trustees governs OCC. Board members are elected on a non-partisan, at-large basis, serve as volunteers and are not paid. Mission statement: OCC is committed to empowering our students to succeed and advancing our community. Learn more at oaklandcc.edu.
###
Media Contact: Marketing & Communications | 248.341.2020 | contactus@oaklandcc.edu