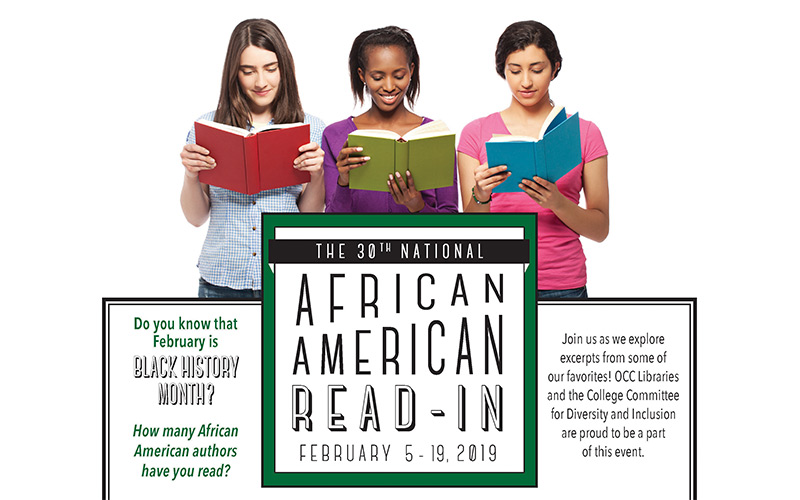 OAKLAND COUNTY, Michigan – To celebrate Black History Month, Oakland Community College invites students, staff, faculty and the public to participate in a read-in to explore books by African-American authors. Read-ins will take place on:
Monday, Feb. 18, 11 a.m.-1 p.m., Room D-206 in the library on the Auburn Hills campus.
Tuesday, Feb. 19, 10:30 a.m.-noon in the atrium on the Royal Oak campus.
"The African-American Read-In is a beautiful way to foster a sense of community through the love of reading and the celebration of Black History Month," said Nadja Springer-Ali, a member of the OCC library faculty on the Orchard Ridge campus.
OCC librarians will begin each session with the poem "A Library (For Kelli Martin)" from Nikki Giovanni's book "Acolytes: Poems." They then will turn things over to participants and volunteer readers to introduce their selections and read aloud. Not sure what you'd like to read? Librarians will offer a wide selection of books for browsing, including fiction, picture books, young-adult fiction, plays, nonfiction and poetry.
The African-American Read-In was started in 1990 by the Black Caucus of the National Council of Teachers of English. The event spotlights the literary contributions made by African-American writers and ensures that literacy is a major emphasis of Black History Month. The event is also a reminder that at one time, slaves were prohibited from learning how to read and write.
The African American Read-In is sponsored by the OCC libraries and the College Committee for Diversity and Inclusion. This is the eighth year that OCC has participated in this national event. For more information, visit www2.ncte.org/get-involved/african-american-read-in.
About OCC
With multi campus system in Oakland County, OCC is Michigan's No. 1 transfer institution, offering nearly 100 degrees and certificates. The College empowers academic and developmental experiences, allowing students to reach their potential and enhance their communities. More than 1 million students have enrolled in the college since it opened in 1965. A seven-person Board of Trustees governs OCC. Board members are elected on a non-partisan, at-large basis, serve as volunteers and are not paid. Mission statement: OCC is committed to empowering our students to succeed and advancing our community. Learn more at oaklandcc.edu.
###
Media Contact: Marketing & Community Relations | 248.341.2020 | contactus@oaklandcc.edu