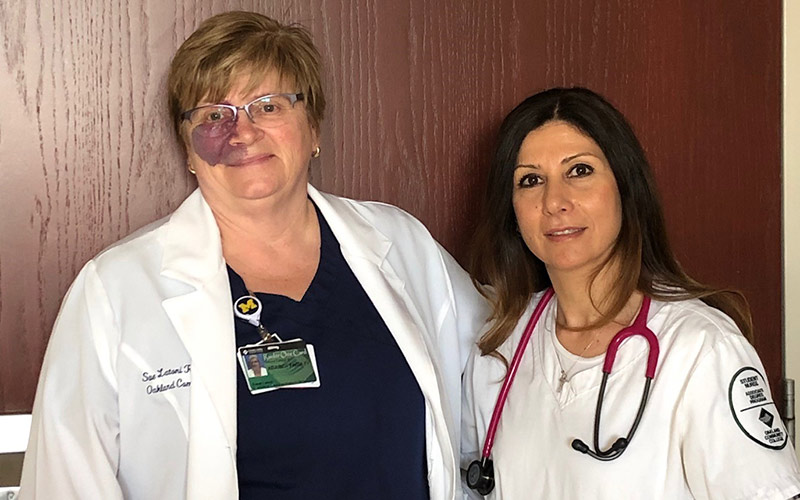 OCC nursing student recognized for being 'very, very compassionate' during graduation honoring 74 nursing students
OAKLAND COUNTY, Michigan – Saba Putrus changed the life of one of her patients at Huron Valley Sinai Hospital.
Putrus, a nursing student at Oakland Community College, had been assigned a patient who was very sick, not breathing well, and was on the verge of being put on a ventilator. She aggressively performed chest physiotherapy, a specific intervention she learned at OCC to keep a patient breathing on his own. She performed CPT her entire shift. Thanks to her continuous care, by the end of her shift the patient was sleeping soundly and had excellent oxygen levels.
"Her outstanding clinical performance was recognized by her clinical faculty, the staff nurses and the pulmonary critical care physician," said Michelle Compton, MSN, RN, a full-time OCC faculty member. "They all recognized her care as the reason for the patient's improvement."
Putrus was assigned the same patient the following week in clinical.
"He was so happy and thankful for the excellent care she provided to him," Compton said. "Her commitment, compassion and perseverance for her patient and his condition are a testament to her nursing future. She will be an amazing RN."
In honor of her efforts, Putrus earned the Jayne Hansche Lobert Outstanding Student Award at OCC's Nursing Recognition Ceremony Feb. 1 at the Smith Theatre, Orchard Ridge Campus. During the ceremony, OCC administrators, faculty, staff, as well as friends and families, celebrated the graduation of 74 OCC nursing students, including Putrus.
OCC nursing students consistently outscore associate and bachelor's degree graduates at the state level on the National Nursing Board Exams. That is one of the main reasons 100% of OCC nursing graduates land a job in healthcare after passing the nursing exam.
"As a matter of fact, the first-time pass rates of our graduates surpass the national standards," said Peter M. Provenzano, chancellor, OCC.
For more information about OCC, visit oaklandcc.edu.
About OCC
With multi campus system in Oakland County, OCC is Michigan's No. 1 transfer institution, offering nearly 100 degrees and certificates. The College empowers academic and developmental experiences, allowing students to reach their potential and enhance their communities. More than 1 million students have enrolled in the college since it opened in 1965. A seven-person Board of Trustees governs OCC. Board members are elected on a non-partisan, at-large basis, serve as volunteers and are not paid. Mission statement: OCC is committed to empowering our students to succeed and advancing our community. Learn more at oaklandcc.edu.
###
Media Contact: Marketing & Community Relations | 248.341.2020 | contactus@oaklandcc.edu