OAKLAND COUNTY, Michigan — Talk about a game changer.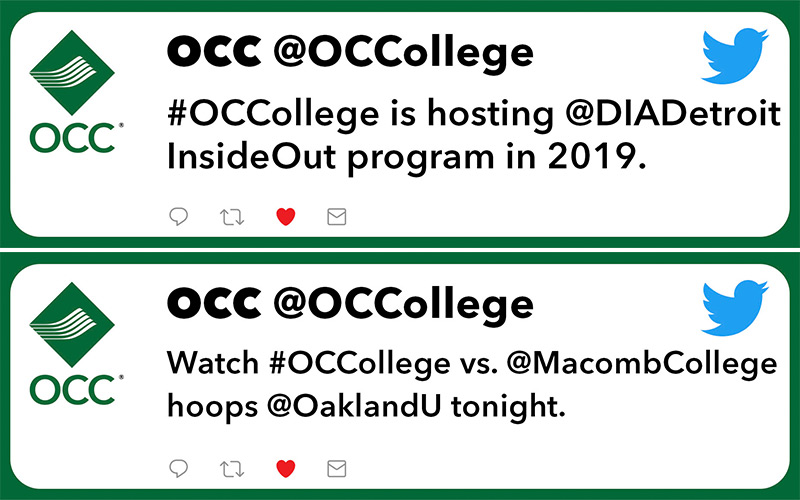 On the heels of launching Michigan's first co-branded billboard campaign with Oakland University and first comprehensive academic program billboard campaign, Oakland Community College is looking to make history again – and possibly change how others view digital outdoor.
What is believed to be a first in Michigan, OCC will feature a "tweet-a-day" from the college and its valued partners on eight OUTFRONT Media digital billboards in Oakland County. The outdoor campaign starts Jan. 21 and ends March 24.
"At OCC, we have so many excellent stories to tell, people to highlight and partners to recognize," said Theodore G. Coutilish, vice chancellor for marketing and community relations. "The goal of our flexible tweet-a-day campaign is to share a variety of messages about the college in real time, promote community goodwill, recognize individuals and partners, and highlight upcoming college events, programs, accomplishments and activities. We are using digital outdoor as it was intended."
"At OUTFRONT, we are always looking for innovative ways to help our clients share their stories," said Chris Pezzello, regional vice president of the Midwest. "We were excited to work with OCC to present a unique and exciting way to utilize our premier out of home assets in Michigan."
"We are excited to integrate our social media and digital outdoor campaigns in a unique and sophisticated away with incredible authenticity," Coutilish said.
About OCC
With multi campus system in Oakland County, OCC is Michigan's No. 1 transfer institution, offering nearly 100 degrees and certificates. The College empowers academic and developmental experiences, allowing students to reach their potential and enhance their communities. More than 1 million students have enrolled in the college since it opened in 1965. A seven-person Board of Trustees governs OCC. Board members are elected on a non-partisan, at-large basis, serve as volunteers and are not paid. Mission statement: OCC is committed to empowering our students to succeed and advancing our community. Learn more at oaklandcc.edu.
###
Media Contact: Marketing & Community Relations | 248.341.2020 | contactus@oaklandcc.edu