Culinary Chef-Educator Kevin Enright and Student Hitomi Tomobe Receive National Awards from American Culinary Federation
The only cooked goose in this kitchen is the competition, as OCC's Culinary Studies Institute takes home two highly-coveted awards from the American Culinary Federation (ACF) 2019 National Convention.
Chef Kevin Enright, department chair of the Culinary Studies Institute, was honored with a 2019 Presidential Medallion award and culinary student Hitomi Tomobe received the ACF Student Chef of the Year award.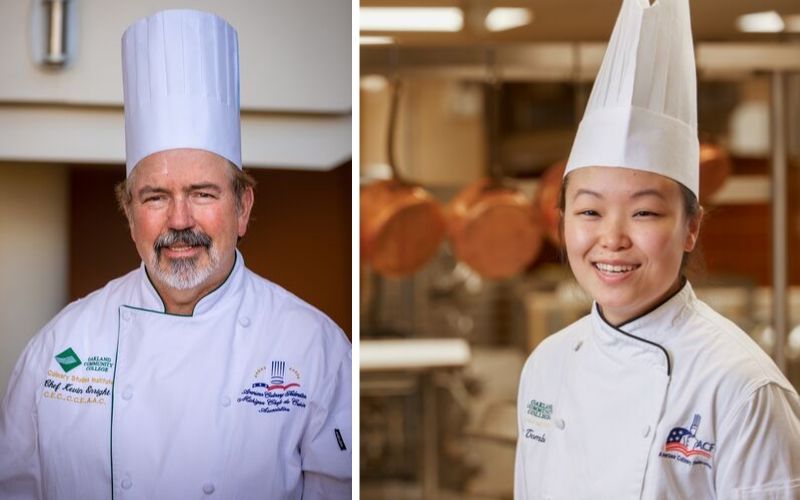 The Presidential Medallion that Chef Enright was awarded is considered the highest honor given by the national president of the ACF. It is presented in recognition of outstanding representation of the ACF fundamental principles, including strength of character and continued contributions to ACF and/or the culinary industry as a whole.
Chef Enright has been teaching at OCC since 1984 and has been ACF Certified as an Executive Chef and Culinary Educator since 1985. He has successfully coached ACF student culinary teams for more than 20 years, and led a team to the ACF Central Regional Championship. He has twice been awarded the Chef of the Year by the Michigan Chef de Cuisines, was the ACF 1998 Central Region's Chef of the Year and 2006 Chef Educator of the Year. He also received the Hermann G. Rusch Culinary Excellence Award in 2013.
In addition to the Presidential Medallion from the ACF, Chef Enright was also recently chosen for membership in the exclusive Honorable Order of the Golden Toque, a group of 100 dedicated and accomplished culinarians joined together in a fraternal educational, non-profit organization to pursue excellence amongst their peers and young culinarians. The Honorable Order is the highest acclaimed recognition a chef can receive in America.
"Receiving this recognition from my peers is extremely gratifying, but I am even more excited about the national recognition our culinary program continues to receive," Chef Enright said. "Mentoring students like Hitomi in class and as a member of our student competition teams is so rewarding, and seeing her receive well-deserved national recognition is outstanding."
Chef Enright said that the Culinary program has had three students, four chefs and two pastry chefs make it to the national finals of ACF competitions, and OCC competition teams have earned 65 Gold, 75 Silver and 20 Bronze medals during the past 26 years, a testament to the quality of the Culinary program.
Tomobe is in her second year in the culinary program and will graduate with an associate of arts degree in Culinary Arts and a certificate in Baking and Pastry in the spring, 2020. She is also a recipient of the 2019 OCC Garden Party Foundation scholarship. The ACF Student Chef of the Year award recognizes a student who possesses a high degree of professionalism, culinary skills and passion for the culinary arts.
She was also recently named President of the ACF Young Chefs Club and credits Chef Enright for encouraging her to get more involved in ACF competitions.
"I am currently working for Chef Drew Sayes of Walnut Creek Country Club who is an OCC alum and one of my competition coaches alongside Chef Enright," Tomobe said. "Having these two chefs as coaches has been an amazing experience for me. Their hard work and commitment to bettering us as cooks reminds me to push myself so that I can be a cook that they can be proud of."
For more information about OCC's Culinary Studies Institute, visit www.oaklandcc.edu/culinary/.
About OCC
With multi campus system in Oakland County, OCC is Michigan's number one transfer institution, offering nearly 100 excellent degrees and certificates. The College empowers academic and developmental experiences, allowing students to reach their full potential and enhance the communities they serve. More than a million students have enrolled in the College since it opened in 1965. Learn more at oaklandcc.edu.
###
Media Contact: Marketing & Communications | 248.341.2020 | contactus@oaklandcc.edu