Mercedes Valencia and 23 other OCC students are continuing their education this fall thanks in part to a $1,000 scholarship they each received through The Garden Party Foundation.
"The Garden Party Foundation, with its signature summer event, has been an incredible supporter of OCC students for more than a decade," said Dan Jenuwine, interim vice chancellor for marketing & communications and OCC Foundation executive director. "The event gets better every year, and this year's proceeds of $101,000 will have tremendous impact on the lives of our students."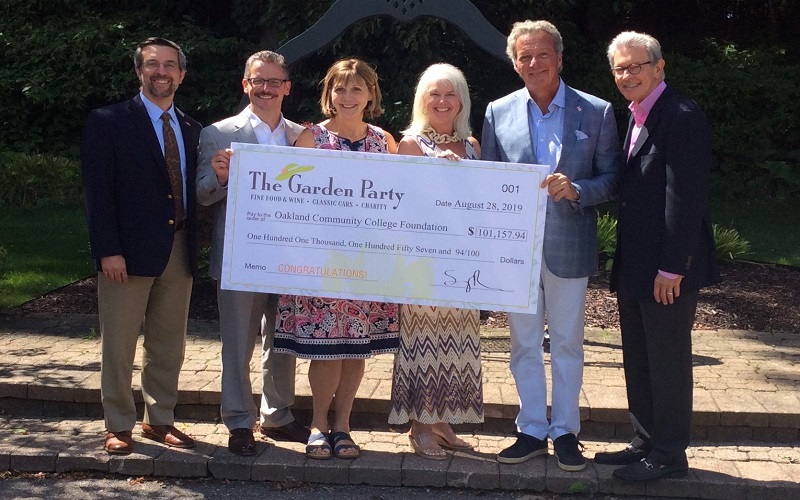 The generosity of The Garden Party sponsors and eventgoers empowers students like Mercedes to succeed in their educational goals.
This past summer, Mercedes worked as an entry-level cook at a country club to gain experience and earn enough to cover her living expenses and support her elderly mother. But with the club closing soon for the winter, she would otherwise struggle to pay for her classes without the scholarship.
"I wish to finish a degree in Culinary Arts in the hopes of giving myself a better future in the restaurant industry," Mercedes said. "It is my passion to cook, bake and serve great and healthy meals. This scholarship help lessens my financial worries, and I can give more attention to my academic responsibilities."
The Garden Party scholarships are awarded each semester throughout the academic year and benefit students in OCC's professional trades programs including the College's Culinary Studies Institute as well as collision auto repair, HVAC/R systems technology, robotics/automated systems technology, welding technology, automobile servicing, criminal justice, electrical trades, fire fighter technology and machine tool technology. Since its inception in 2009, the event has raised $640,000 for OCC students.
The Foundation's 12th annual Garden Party event will be held at Meadow Brook Hall Sunday, June 14, 2020. For more information visit www.thegardenpartymichigan.org.
About OCC
With multi campus system in Oakland County, OCC is Michigan's No. 1 transfer institution, offering nearly 100 degrees and certificates. The College empowers academic and developmental experiences, allowing students to reach their potential and enhance their communities. More than 1 million students have enrolled in the college since it opened in 1965. A seven-person Board of Trustees governs OCC. Board members are elected on a non-partisan, at-large basis, serve as volunteers and are not paid. Learn more at oaklandcc.edu.
About The Garden Party Foundation
The Garden Party Foundation was founded by Sydney L. Ross and his wife, Elizabeth. The Garden Party event was initiated and is maintained by The J. Lewis Cooper family and Elizabeth and Sydney L. Ross Foundation. The mission of The Garden Party Foundation (TGPF) is to provide professional trade scholarships to underprivileged young adults. TGPF believes that the purpose of education is to teach students skills allowing them the opportunity to create their own self-sustainable life, which goes hand in hand with TGPF's intention…to help one student at a time reach their dreams. The foundation also aims to make The Garden Party the finest and most prominent food and wine event in the state. For more information, visit The Garden Party Foundation website at www.thegardenpartymichigan.org.
###
Media Contact: Marketing & Communications | 248.341.2020 | contactus@oaklandcc.edu